News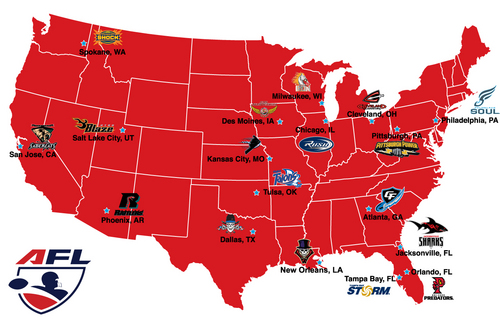 10/21/2010 2:57 PM
-
JACKSONVILLE, FLA - The Arena Football League has announced new division alignments for the 2011 season. New franchises will highlight natural rivalries in all four divisions. The eighteen teams are split into the National and American Conference. The National Conference houses the West Division and Central Division. The American Conference divides into the South Division and East Division.
"This divisional alignment allows teams to revive some of their old rivalries while creating some natural new ones," Commissioner Jerry B. Kurz said. "We are very excited about the 2011 Arena Football season."
Jacksonville, reigning South Division Champions, will continue to battle against in-state rivals Orlando Predators and Tampa Bay Storm. The South Division will also feature the Georgia Force, based out of Atlanta, Georgia, and the New Orleans VooDoo.
The National Conference is comprised of the West and Central Divisions while the American conference holds the South and East Divisions. The West Division includes Arizona, Utah, San Jose and Spokane. The Central Division is Chicago, Dallas, Iowa, Kansas City and Tulsa. The East Division holds Cleveland, Milwaukee, Philadelphia and Pittsburgh.
During the 18 game schedule, each team will play every opponent in their respective division twice. Teams will also play the opponents in their conference once.
The Jacksonville Sharks are members of the Arena Football League (AFL). The reigning South Division Champions play all home games on Sea Best Field at the Jacksonville Veterans Memorial Arena. The Sharks return to action in March of 2011 for a sophomore season. Season tickets for the 2011 season are now available. To reserve your season tickets, group tickets, or for more information please call (904) 621-0700.