News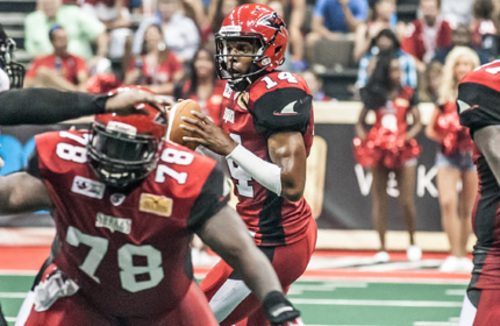 07/26/2013 3:47 PM
-
JACKSONVILLE - On Saturday, July 27, the 2013 South Division Champion Jacksonville Sharks will square off against the Tampa Bay Storm on Sea Best Field at the Jacksonville Veterans Memorial Arena. This week's game is presented by our partners at Sunshine State Insurance Company and RyTech, and kickoff is set for 7:00 p.m.


This week is the regular-season finale, as the Sharks still have a chance to lock up the No. 1 seed in the American Conference. To do so, the Sharks will need to win this week's game and then have the Philadelphia Soul lose to San Antonio on Saturday night. Either way, the Sharks have locked up their fourth straight South Division title and will host a home playoff game next Saturday, August 3, at 7:00 p.m.

The Sharks are 6-1 all-time against Tampa Bay, beating the Storm on the road by a 64-55 count all the way back in Week 1 of this season.

Whether you are a longtime Season Ticket Holder or are about to head to your first Sharks game, please see below for a rundown of what to expect at the Shark Tank on Saturday!




80s Night

This week, we celebrate the unique style and music of the 1980s! In addition to playing plenty of classic tunes, we're going to go Back to the Future with the DeLorean!


Fan Appreciation Night

We're going to spend the night giving back to the best fans in the AFL - YOU! For Fan Appreciation Night, many of our corporate partners have provided special prizes that will be given away throughout the game. In addition, we will have special merchandise and concession promotions on Saturday:

Merch: 50% off selected items - stop by the Merch Stand behind section 106 to see what's on sale!

Concessions: Hot Dogs, Souvenir Sodas and Popcorn will all be discounted $1 off - enjoy $1 souvenir soda refills as well!


Stuff the Bus

This week, we have teamed up with First Coast News for their "Stuff the Bus" initiative, which provides school supplies for children in need. FCN and the Salvation Army will be on hand at SharkFest to collect donations of school supplies - we thank you for your generosity!


Fan Survey

Shark fans, we want your feedback! Our annual fan survey is an outstanding way for you to help us enhance your overall experience as a Shark fan. Surveys will be located at the Customer Service table and the Merch Stand behind Section 106, and each fan who completes a survey will receive a $5 discount on your merchandise purchase! Note that there is a minimum purchase of $10 to be eligible for this discount.


"4 Peat" T-Shirts

Celebrate the Sharks' South Division title with a "4 Peat" t-shirt! These will be available at the Merch Stand located behind section 106. Supplies are limited, so be sure to get yours!


Attack Dance Team Calendars


The 2013-14 Attack Dance Team Calendars are here! This year's calendar will be on sale at the Merch Stand located behind Section 106. Be sure to get yours before the game so that you can have it signed by the Attack at our Postgame Autograph Session!




2014 Season Tickets

Season Tickets for the 2014 season are now on sale! Those who wish to renew their seats or purchase new season tickets may visit the FIN-formation table located across from the merchandise stand behind section 106. Informational flyers and renewal forms will be available at that location. For more information about the benefits of becoming a Sharks Season Ticket Holder, please CLICK HERE.




SharkFest


We're ready to kick off the night at SharkFest! Check out our pregame block party just outside the front entrance of Sea Best Field. Be sure to ride the giant inflatable Shark Slide (weather-permitting)!


Also at SharkFest, you have the chance to help save lives by participating in The Blood Alliance's blood drive. The drive will run from 4:00-7:00 p.m.


Many of our other corporate partners will be on hand, so be sure to stop by their displays as well. It's all set to begin at 4:00 p.m. on Saturday, but please note that inclement weather may impact the exact nature of SharkFest.




Doors Open



On Saturday, doors will open at 5:30 p.m. for season ticket holders and 6:00 p.m. for the general public.



ArenaBowl XXVI Ticket Pickup

Those who have purchased 2014 Season Tickets and qualified for FREE ArenaBowl XXVI tickets may pick up their ArenaBowl tickets at this week's game. Pickup will be located behind the elevator in the main concourse behind Section 106.


Season TIcket Holder Gift PIckup



This the LAST CHANCE for 2013 Season Ticket Holders who qualified for Season Ticket Holder Gifts to pick up those items. In order to receive your items, bring your Tailgate Chair and Helmet Keychain vouchers behind the elevator located in the main concourse behind Section 106.

In addition, 2013 Season Ticket Holders who renewed during the Early Bird period (before October 31) but have not yet picked up their Beach Towel gift may do so on Saturday. Beach Towel pickup will be available in the same location as pickup for the other Season Ticket Holder gifts.



About the Jacksonville Sharks



The Jacksonville Sharks are members of the Arena Football League (AFL). The ArenaBowl XXIV and four-time South Division Champions are presented by Sea Best Seafood and play all home games on Sea Best Field at the Jacksonville Veterans Memorial Arena. Season Tickets for the 2014 season are now available, two tickets as low as $185. To reserve your season tickets or for more information, please call (904) 621-0700. Follow the Sharks on facebook at facebook.com/jaxsharks and on Twitter @jaxsharks, as well as the Attack Dance Team at facebook.com/sharkattackdance and Chum at facebook.com/chumsharks.




About the AFL



Since its inception in 1987, the Arena Football League has showcased its fast-paced and exciting game to millions of fans in a myriad of markets across the country. CBS Sports Network will broadcast an AFL National Game of the Week on Saturday nights for the entire regular season and postseason through the semifinal round. The ArenaBowl XXVI Championship Game will air on the CBS Television Network on August 17, 2013.