Front Office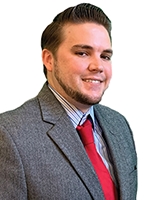 Steven Shotola
Director of Multimedia
E-mail:
A native of Port St. Lucie, FL, Steven enters his fifth season with the Jacksonville Sharks as the Director of Multimedia. Steven graduated in 2013 with a Bachelors Degree in Film from Jacksonville University. During his time at Jacksonville University he worked as a Game Day IP Director and Video Editor with the Jacksonville Jaguars. Steven's passion for film landed him multiple invitations to film festivals in Jacksonville, Columbus (OH), Los Angeles, New York and even the 2012 Cannes Film Festival where his Film "Duality" screened at the Cannes Short Film Corner.
Following his graduation, Steven accepted a Head Intern position with Beast of the East Productions, a Film Production company in New York City. This opportunity allowed him to work on major Commercials, Short Films, Feature Films and Music Videos. Steven became the Assistant Director of a music video produced for the Legendary Rock Band The Zombies, the music video "Any Other Way" featured on MTV and was a cover story for rollingstonemagazine.com. Shortly after the production of the music video Steven accepted a position with the New York Jets where he spent the 2013-2014 seasons as a Multimedia Editor. During his time with the Jets he worked on multiple shows for newyorkjets.com including "Jets Talk Live", "Inside the Huddle" and also worked on Network Television collaboration show "Jets Flight Plan" which aired on SNY and other local television networks.
After his time with the New York Jets, Steven accepted a position as a Lead Audio Visual Technician with PRI Productions in Jacksonville, FL. This position led for him to reunite with the Jacksonville Jaguars as the team's Robotic Camera Engineer. In 2015, Steven became the Jacksonville Sharks Multimedia Director, where he continues to expand the Sharks' vision for Video Production, Communications, Graphic Design and Social Media. Steven is currently a two-time award winning Media Director as the National Arena League reconigized him for "Best Media" and "Best Website" following both the 2017 and 2018 seasons. Shotola also has worked as the league's host of several National Arena Championship Media Days.

Steven resides in the Southside area of Jacksonville, FL where he enjoys taking his kids Shae and Aidan to the Beach, the Movies, and Disney World.