Front Office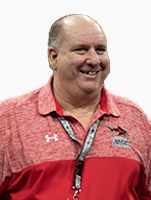 Steve Curran
Team President
E-mail:
Steve Curran is currently President and Managing Owner of Destroyer Graphics ("DG"). Founded in 2006, Destroyer Graphics is a screen printing and embroidery operation with a 6000 sq foot facility in Middleburg, FL. DG produces over 500K promotional and retail tees, rally towels and embroidered garments for various sports teams and retail shops. Curran overseas all aspects of the company's day to day operations in the production facility as well as the corporate office.
From 1998 through 2003, Curran worked for Sunset Trading, a division of CellMark Inc. Sunset Trading is a paper brokerage company that buys and sells various grades of paper to international and domestic markets. With forty-two offices in twenty-two countries around the globe, CellMark is the world's largest marketing company specializing in pulp and paper. Curran started as a recycling salesman and rapidly advanced to the position of West Coast Operations Manager. In addition to his domestic sales, Curran was responsible for the management of a high seven figure inventory, the day to day movement of over 3100 tons of inventory a month, inventory valuations and purchase recommendations. His financial responsibilities included the management of accounts payable and receivable as well as month end reporting.
From 1983 to 1998, Curran gained valuable experience with ABCO foods. With 87 stores throughout Arizona and sales just under a billon dollars a year, ABCO foods was one of largest grocery chains in the southwest. Among Curran's accomplishments were receiving the Golden Apple, the companies award for excellence in customer service, and being recognized for having the highest gross profit increase in his district for three consecutive years. Management duties included the hiring, training, scheduling and promoting of store associates. During his tenure, Curran implemented daily, weekly and monthly marketing programs while working with each sales department and various outside vendors to meet the company's sales, profit and service goals.