Player Roster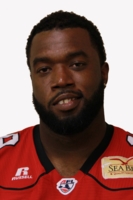 Inactive
Moqut Ruffins (League Suspension - AFL)
#93
Position:
OL
Date of Birth:
04/06/1984
Height:
6' 5"
Weight:
340 lbs
Pro Experience:
8 years
College:
Louisiana Tech
Birthplace:
Cleveland, OH
Biography:
Transaction Notes

Assigned to the Jacksonville roster August 17, 2017. Enters his ninth season in the Arena Football League and fourth season with the Jacksonville Sharks (Jacksonville, 2015-Present - San Antonio, 2013-14 - Pittsburgh, 2012 - New Orleans, 2011 - Bossier-Shreveport, 2010).


Pro Experience

2017: Award First Team All-NAL honors after helping the Sharks to a 11-1 record and a National Arena Championship. Finished the year with three catches for 54 yards and one touchdown. 2016: Assisted the Sharks to a Amercian Conference Championship appearance, finished the season with five receptions for 65 yards and two touchdowns. 2015: Earned All-Arena honors, caught seven passes for 71 yards and three TDs. 2014: Played in 16 games with the San Antonio Talons during the 2014 season. In addition to his primary blocking duties, he totaled 19 receptions for 151 yards and five touchdowns. He also recorded his second consecutive five-TD season. 2013: Saw action in 17 games during his first year with the San Antonio Talons, and totaled 16 catches for 181 yards and five scores. Set personal bests in receiving yards and yards per reception (11.3). 2012: Made 15 starts in 16 games with the Pittsburgh Power in 2012. Hauled in five receptions for 41 yards and two touchdowns. 2011: Played in 15 games with the New Orleans VooDoo in 2011, catching four passes for 39 yards and two scores. 2010: Broke into the AFL with the Bossier-Shreveport Battle Wings in 2010. He caught seven passes for 54 yards and two touchdowns, and had one rushing attempt for 30 yards.


College

Prior to his professional career, Ruffins attended Louisiana Tech, where he played along the defensive line. He earned All-WAC honors in 2005, recording a total of 48 tackles, seven tackles for loss, three sacks and two forced fumbles.


Personal

Ruffins is a native of Cleveland, Ohio.