Player Roster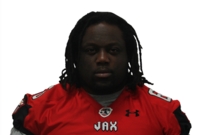 Active
Derrick Ross
#39
Position:
FB
Date of Birth:
12/29/1983
Height:
6' 0"
Weight:
285 lbs
Pro Experience:
7 years
College:
Tarleton State
Birthplace:
Huntsville, TX
Biography:
Transaction Notes

Re-signed with the Jacksonville Sharks on December 9, 2016. Orginally acquired by the Sharks in a trade with the Las Vegas Outlaws on March 15, 2015. Enters his eigth season in the arena football (Jacksonville, 2015- present, Philadelphia, 2012-14 - Dallas, 2011).
Pro Experience
2017: Earned First Team All-NAL honors with 110 carries for 540 yards and 25 touchdowns. Ross led the league in all rushing categories and lead the league in overall touchdowns with 27. 2016: Ross is the Arena Football League's all-time leading rusher in both yards (2,260) and touchdowns (142.). Ross had 108 carries for a league high of 399 yards and 20 touchdowns. 2015: He had 147 carries for 586 yards and 33 touchdowns. 2014: In his third season with the Philadelphia Soul, he carried the ball 151 times for 487 yards and 36 touchdowns, and scored six rushing touchdowns in the Soul's season opener against Arizona. He also totaled 20 receptions for 198 yards and four TDs. 2013: He totaled 153 carries for 506 yards and 35 touchdowns during the 2013 season in Philadelphia. In his second season with the team, he became the AFL's all-time leading rusher in terms of yardage, passing Bo Kelly's career total of 1,571. 2012: Ross broke his own single-season rushing record with 645 yards on 146 carries. In his first season with the Soul, he scored 32 touchdowns, achieving a career-best average of 4.4 yards per carry. 2011: Broke into the AFL with the Dallas Vigilantes in 2011. He set rookie records with 622 rushing yards and 39 touchdowns during his AFL debut. 2009: Signed with the Winnipeg Blue Bombers. 2008: Signed with the Montreal Alouettes for his first contract in the Canadian Football League. 2007: Joined the Cologne Centurions of the NFL Europe. 2006: Began his professional football career with the Kansas City Chiefs.
College

Ross finished his college career at Tarleton State University after transferring from Blinn College. Ross holds Tarleton State records for rushing yards in a single game (269), rushing yards in a single season (1,560) and touchdowns in a single season (22).
Personal

Ross is a native of Huntsville, Texas.