Player Roster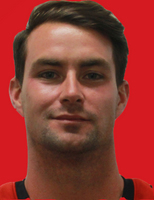 Active
Nick Belcher
#12
Position:
Kicker
Date of Birth:
07/10/1990
Height:
5' 9"
Weight:
180 lbs
Pro Experience:
2 Year Pro
College:
South Carolina State
Birthplace:
Charleston, SC
Biography:
Transaction Notes
Re-signed with the Jacksonville Sharks, August 31, 2017. Entering his third year in arena football. (Jacksonville: 2017-Present - Cedar Rapids: 2016).
Pro Experience:
2017: Earned NAL's Special Teams Player of the Year and First Team All-NAL Honors. Belcher also earned five Player of the Week awards, leading the league in special teams scoring (114 points), PATs made (89), field goals made (19), deuces (20) and points per game (9.5). 2016: Belcher went 29 for 54 in field goals and 62 for 79 (78%) in PATS with the Cedar Rapids Titans of the Indoor football league. The Titans star kicker converted seven out of eight PATs in the United Conference Wild Card game to help Cedar Rapids to a 66-36 victory over Wichita Falls.
Other Pro Experience:
Belcher was a CFL and AFL free agent, prior to the 2016 season, earning inviations with the Edmonton Eskimos and the Winnepeg Blue Bombers of the CFL during the teams' 2015 mini camps. He also competed in the Jacksonville Sharks 2015 training camp.
College:
A Highly recruited JUCO baseball and football star at Darlington Technical College where he kicked for two years before transferring to South Carolina State. During his junior year at South Carolina State, he was the teams leading scorer with 87 overall points during the regular season. He recorded 45 PATs, on 46 attempts and landed 44 FGs with Bulldogs prior to his final season. During his senior year Belcher went 17 for 23 in field goals and drove 40 PATs.
Personal:
A native of Sumter, South Carolina where he played football, baseball, soccer and tennis at Lakewood High School. During his athletic career he earned All-Area Honors, All-State Accolades and played in both the Pensacola Sports Assocation All-Star Game and the Max Emfinger All-American Game.