Player Roster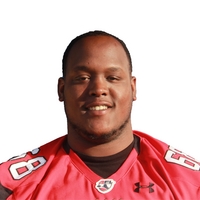 Active
Damien Jacobs
#99
Position:
DL
Date of Birth:
07/22/1991
Height:
6' 3"
Weight:
300 lbs
Pro Experience:
2 Years Pro
College:
Florida
Birthplace:
Gibson, LA
Biography:
Transaction Notes
Re-signed with the Sharks on Oct. 16, 2018 for his third year of arena football as well as his third year with the Sharks. (Jacksonville: 2017 - Present).
Pro Experience
2019: Jacobs played four games during his third season with the Sharks and recorded two tackles. 2018: Jacobs played 15 games during his second season with the Sharks. He recorded one safety, two interceptions with one returned for a touchdown, 15.5 tackles, five sacks and recovered four fumbles. 2017: Was assigned to the Jacksonville roster during training camp, though he did not make the final roster, he signed with the Sharks on June 2, 2017 under coach Siaha Burley. Jacobs played in three regular season games, gaining eight tackles, 3.5 for a loss, 3.5 sacks and one interception. 2014: Participated in the Buffalo Bills training camp.
College
Finished his college career at the University of Florida. He recorded 34 tackles, six for a loss, 2.5 sacks and one interception. He had a career high six tackles against Georgia Southern and was awarded the Gator's Patrick Courage award. Prior to Florida, he played for East Mississippi Community College, famous for it's Netflix Orginal Series "Last Chance U", and had 47 tackles, eight for a loss, two sacks and two fumble recoveries. He helped the Lions to a perfect 12-0 season and a NJCAA National Championship victory in 2011.
Personal
Is a native of Gibson, LA and played for H.L. Bourgeois High School. He was ranked the 75th defensive lineman in the nation and 3rd in Louisiana by Rivals.com. Had 91 tackles, 6.5 sacks, and six forced fumbles during his senior year, and had offers to Florida State, Arkansas, Ole Miss and Nebraska.
Career Statistics »
| Year | League | Club | TACK | AST | SACKS | PB | FF | FR | BLK | INT | YDS | TDs |
| --- | --- | --- | --- | --- | --- | --- | --- | --- | --- | --- | --- | --- |
| 2019 | National Arena League | Jacksonville Sharks | 3.5 | 5 | 1.5 | 0 | 1 | 0 | 0 | 0 | 0 | 0 |
| 2018 | National Arena League | Jacksonville Sharks | 15.5 | 13 | 5.0 | 1 | 0 | 4 | 0 | 2 | 5 | 1 |
| 2017 | National Arena League | Jacksonville Sharks | 14 | 0 | 4.0 | 0 | 0 | 2 | 0 | 1 | 0 | 0 |