Player Roster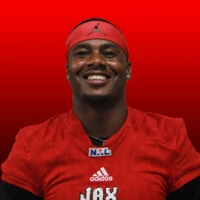 Active
Durron Neal
#5
Position:
WR
Date of Birth:
11/03/1992
Height:
5' 11"
Weight:
191 lbs
Pro Experience:
2 Years Pro
College:
Oklahoma
Birthplace:
St. Louis, MO
Biography:
Transaction Notes
Signed with the Sharks Nov. 15, 2018 for his third season of arena football and first with the Sharks (Jacksonville: 2019-Present, Columbus: 2017-2018).
Professional
2019: Neal played 12 games with the Sharks where he recorded 68 receptions for 643 yards and 17 touchdowns, including the game-winning touchdown in the NAL championship game. 2018: Neal played in 14 games with the Columbus Lions, where he led the Lions in receiving yards (1085) and average yard per catch (13.7) and earned Second Team All-NAL honors. Neal also finished the season ranking second in catches (79) and touchdowns (25). 2017: Began his arena football career with the Lions, playing in nine games. In those nine games, he had 37 receptions for 319 yards and seven touchdowns.
Neal was an undrafted free agent entering the 2016 season when he signed with the Denver Broncos for training camp. Neal played for the Broncos the pre-season, recording three catches for 21 yards and one touchdown but was not with the team for the regular season.
College
Neal attended Oklahoma University and played all four years as a Sooner. In his four years, he racked up a total of 104 receptions for 1,323 yards and six touchdowns. He also rushed twice for 19 yards. As a kick returner, Neal returned nine kickoffs for 122 yards.
Personal
Neal is a native of St. Louis, MO and attended De Smet Jesuit High School.
Career Statistics »
| Year | League | Club | RUSH ATT | RUSH YDS | RUSH TDS | RECEPTIONS | REC. YDS | REC. TDS | RETURNS | RETURN YDS | RETURN TDS |
| --- | --- | --- | --- | --- | --- | --- | --- | --- | --- | --- | --- |
| 2019 | National Arena League | Jacksonville Sharks | 11 | 40 | 4 | 68 | 643 | 17 | 6 | 83 | 0 |
| 2018 | National Arena League | Columbus Lions | 0 | 0 | 0 | 79 | 1,085 | 25 | 26 | 404 | 0 |
| 2017 | National Arena League | Columbus Lions | 0 | 0 | 0 | 37 | 319 | 7 | 3 | 24 | 0 |
| 2016 | National Football League | Denver Broncos | 0 | 0 | 0 | 3 | 21 | 1 | 0 | 0 | 0 |