Player Roster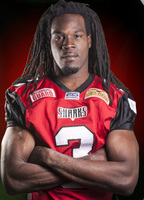 Inactive
Jeron Harvey (Team Suspension)
#3
Position:
WR
Date of Birth:
06/25/1984
Height:
6' 4"
Weight:
220 lbs
Pro Experience:
7 years
College:
Houston
Birthplace:
Jacksonville, FL (Jackson HS)
Biography:
Transaction Notes

Resigned with the Sharks December 14, 2016. Harvey was retained by the Jacksonville Sharks during the exclusive period following the 2014 season… Enters his eighth season in the Arena Football League (Jacksonville, 2010-14, Jacksonville, 2017 - Present).

AFL Experience

2018 Returned to the Jacksonville Sharks.
2017 Signed with the Monterrey Steel and helped the team with a 7-4 record and a playoff appearance.
2014 Played in 12 games with 9 starts during the 2014 season... After missing four games with a late-season leg injury, battled back to see the field in each of the Sharks' final three contests... Finished second on the team with 82 receptions and ranked third among Sharks in receiving yards (966) and touchdowns (22)... Caught two or more touchdown passes in six consecutive games from Week 6 through Week 11... After returning from injured reserve, scored five touchdowns over the course of the Sharks' final three games.
2013 Enjoyed a career year that resulted in his first-ever All-Arena selection (Second Team)... Played in all 18 games, making 16 starts... Set a new franchise record with 146 receptions while also leading the team with 1,593 receiving yards and 35 touchdowns... From Week 5 through Week 15, caught a touchdown pass in 11 consecutive games... Ripped off five straight 100-yard games from Week 9 to Week 14... Set a new personal best with five touchdown receptions in Week 6 at Philadelphia.
2012 Appeared in 12 regular-season games for the Sharks in 2012, starting all 12… Led team with 101 receptions and finished second with 970 receiving yards and 25 touchdowns… Established a new franchise record for career receptions (218), passing Jomo Wilson's mark of 212… Become second player in team history with more than 100 receptions in a single season… After returning from a midseason hamstring injury, caught at least six passes and scored a touchdown in each of the team's last five games.
2011 Played in 11 games for the Sharks in 2011 (9 starts)… Finished season with 90 catches for a career-high 1,077 yards and 31 TDs… Also had a pair of rushing touchdowns… Finished the 2011 postseason with 16 catches for 175 yards and eight touchdowns, including the game-winning touchdown grab as time expired in ArenaBowl XXIV.
2010 In his rookie season in the AFL, Harvey finished with 27 catches for 364 yards and 13 touchdowns.

Other Professional Experience

2009 Spent time with the Toronto Argonauts of the Canadian Football League. 2008 Signed with the Jacksonville Jaguars as an undrafted free agent following the 2008 NFL Draft… Attended NFL training camp with the team but was released prior to the start of the season.

College

Played at the University of Houston from 2005-07 after a one-year stint at Dodge City Community College… At Houston, totaled 110 catches for 1,602 yards and eight TDs… Selected to the Honorable Mention All-Conference USA squad as a junior… At Dodge City, was named to the All-Jayhawk Conference First Team in 2004… Racked up 52 catches for 956 yards and 14 TDs as a freshman that year.

Personal

A Jacksonville native, Harvey attended Andrew Jackson High School… Named to the All-Gateway Conference First Team in 2001.