News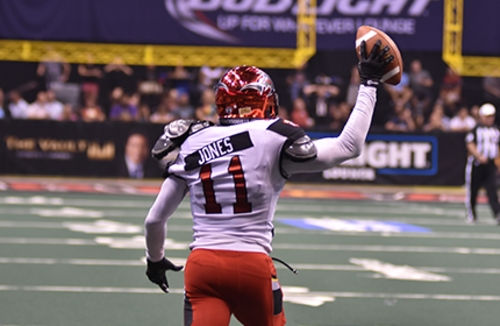 01/18/2017 5:51 PM
-
JACKSONVILLE – Jacksonville Sharks receiver Tiger Jones has announced that he will be retiring from arena football, following his two seasons with the Sharks and eight seasons in the sport.



Anthony "Tiger" Jones spent eight years in arena football, spending his final two with the Jacksonville Sharks as a key target for quarterback Tommy Grady. During his last season with the Sharks in 2016, Tiger racked up 104 catches for 1209 yards and scored 18 touchdowns. Jones also reached a major career milestone passing the 1,000 career catches mark during the 2016 season, becoming the fifth player ever in Arena Football League history to accomplish this feat.



In 2015, Tiger earned First Team All-Arena Honors, while becoming the first wide receiver in Sharks' history to have a 2,000 yard season (2087), catching 148 receptions for 38 touchdowns and helping the Sharks to a ArenaBowl XXIX appearance.



"How can you replace a player that gave us such memorable touchdown celebrations? There was Soul Train, Jame Brown, Michael Jackson, Elvis and who can forget the People's Champion? He was no doubt one of the greatest receivers in the game. A true professional on and off the field. Tiger was a tremendous player for this franchise, a mentor to his teammates and a fantastic role model in our community." noted Sharks Operating Manager Jeff Bouchy. Tiger will always be a part of our Sharks' family and we wish him the best in all of his future endeavours."



During Tiger's career, he amassed a career total of 1041 catches for 14,329 yards and 286 touchdowns in eight seasons. Jones played for eight arena football teams including the Georgia Force, Milwaukee Mustangs, Dallas Vigilantes, Philadelphia Soul and the Jacksonville Sharks. The future arena football Hall of Famer earned All-Rookie honors, multiple First and Second Team All-Arena honors and was Wide Receiver of the Year in 2011. Due to his success in arena football, Tiger earned multiple invitations to workout with NFL teams including the Washington Redskins and Philadelphia Eagles but always found arena football to be the primary stage for his pro career.



"To all the Shark fans, I want to thank you for the endless and relentless support you have given me, said Jones. Thank you for being you and for making my experience in Jacksonville so memorable. Keep the Shark Tank Rockin'."



Jones looks to continue his football career, not as a player but on the sideline as he will become the Head Assistant Strength Coach for Texas A&M University.