News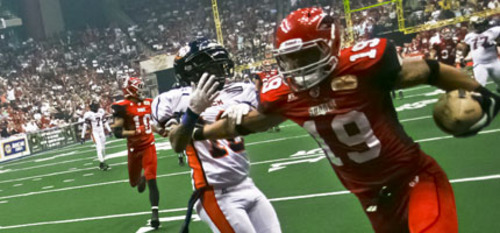 11/17/2010 3:00 PM
-
JACKSONVILLE, FLA - The Jacksonville Sharks announce the national television broadcast schedule for the 2011 regular season.
The Jacksonville Sharks will be featured four times in 2011 on the NFL Network as the Arena Football League's Game of the Week. The Sharks will host two nationally broadcast games while playing two more on the road.
The first nationally televised showcase will be Week 4 as the Sharks travel to their in-state rivals, the Tampa Bay Storm, on Friday April 1. The Sharks will host the Orlando Predators Week 8 on Sea Best Field Saturday, April 30. The Sharks will head to New Orleans in Week 13 for their third AFL Game of the Week against the VooDoo on Friday, June 3. The Sharks will close out the regular season on Sea Best Field hosting the Spokane Shock on the NFL Network on July 22.
The Sharks are 4-1 (2-0 home, 2-1 road) all-time when appearing on the AFL's Game of the Week in the regular season. In 2010, the Sharks defeated the Predators by 26 on Sea Best Field, the Storm in Tampa Bay, the Chicago Rush in Chicago and closed out the regular season with a 15 point victory over the Shock to earn the South Division crown. The Sharks' only loss came at the hands of the Predators in Orlando.
The Jacksonville Sharks are members of the Arena Football League (AFL). The reigning South Division Champions play all home games on Sea Best Field at the Jacksonville Veterans Memorial Arena. The Sharks return to action Saturday, March 12, 2011 in Arizona to battle the Rattlers. The Sharks return home Friday, March 18, 2011 to take on division foe Georgia Force. Season tickets for the 2011 season are now available. To reserve your season tickets, group tickets, or for more information please call (904) 621-0700.