News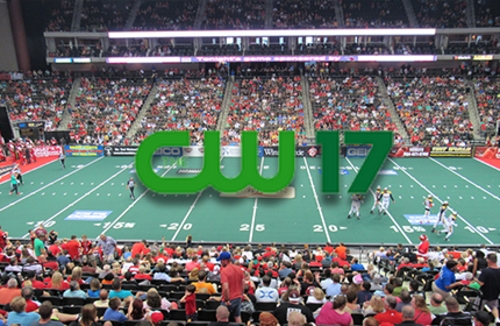 02/20/2017 10:23 AM
-
JACKSONVILLE – The Jacksonville Sharks and CW17 have announced their partnership for the 2017 season. CW17 will be the Sharks official broadcast partner for the 2017 season and will provide local televised broadcasts for a minimum of four Sharks home games during the regular season and up to two playoff games during the postseason, including the NAL Championship game on July 10.

"We are excited to be able to produce local broadcasts once again on CW," stated Operating Manager Jeff Bouchy. "The partnership with the CW allows fans all around Jacksonville to enjoy Sharks games on one of Jacksonville's premiere stations. Most importantly, it also allows unique advertising opportunities for our corporate partners only seen in our broadcasts."

The Sharks' first appearance on CW for 2017 will be the home-opener on Saturday, March 25 against the Georgia Firebirds. The CW will broadcast from the Jacksonville Veterans Memorial Arena and all home games will been shown at 7 p.m. eastern standard time. The second broadcast will be on April 29 as the Sharks take on the Columbus Lions. The third broadcast will be on May 20 against the Monterrey Steel. The Sharks will finish the regular season with their last game televised before entering the postseason on June 17 against the Monterrey Steel. If the Sharks were to host a first-round playoff game, it would also be televised on CW17 on June 24th. And finally, if the Sharks are fortunate to host the NAL Championship Game, the game would take place on July 10 and be televised on CW17.

"Having the Sharks on the air for another season is great for fans of the team and fans of our station," said Bob Ellis, WJXT/WCWJ Vice President and General Manager. "The games are special events you can only see on CW17. Supporting our local teams is what we're all about."

2017 Jacksonville Sharks Broadcast Schedule:

Week 2: Sharks vs. Georgia Firebirds (Saturday, March 25 7:00 p.m.)

Week 7: Sharks vs. Columbus Lions (Saturday, April 29 7:00 p.m.)

Week 10: Sharks vs. Monterrey Steel (Saturday, May 20 7:00 p.m.)

Week 14: Sharks vs. Monterrey Steel (Saturday, June 17 7:00 p.m.)

Week 15: National Arena League Playoffs (Saturday, June 24 7:00 p.m.)

About the Jacksonville Sharks

The Jacksonville Sharks are members of the National Arena League (NAL). The ArenaBowl XXIV and four-time South Division Champions play all home games at the Jacksonville Veterans Memorial Arena. Sharks Nation Memberships for the 2017 season are now available. Shark Nation Memberships start as low as $99. To become a Shark Nation member or for more information please call (904) 621-0700. Follow the Sharks on facebook at facebook.com/jaxsharks and on Twitter and Instagram @jaxsharks, as well as the Attack Dance Team at facebook.com/sharkattackdance and Chum at facebook.com/chumsharks.


About WCWJ Channel 17

WCWJ Channel 17, Jacksonville's CW affiliate, provides entertainment, local sports and programming to the Northeast Florida and Southeast Georgia region. The station is owned by The Graham Holdings Company (NYSE: GHC) and is one of seven Graham Media Group stations along with WJXT Jacksonville, WSLS Roanoke, KPRC Houston, WKMG Orlando, KSAT San Antonio and WDIV Detroit.

About Graham Media Group

Graham Media Group, a subsidiary of Graham Holdings Company (NYSE: GHC), owns seven local television stations—each in a top-50 market and all recognized as news leaders: KPRC–Houston and WDIV–Detroit (NBC); KSAT–San Antonio (ABC); WKMG–Orlando (CBS); WJXT–Jacksonville, WCWJ Jacksonville, and WSLS Roanoke as well as Social News Desk, a leading provider of social media management tools designed to connect newsrooms with their users. The stations also broadcast digital channels focusing on classic television and lifestyle programming, in addition to operating market-leading websites, mobile sites and mobile apps delivering breaking news, weather and community news, reaching millions of users across each platform. All are deeply involved in local initiatives and public service projects designed to serve, inform and improve their respective communities.