News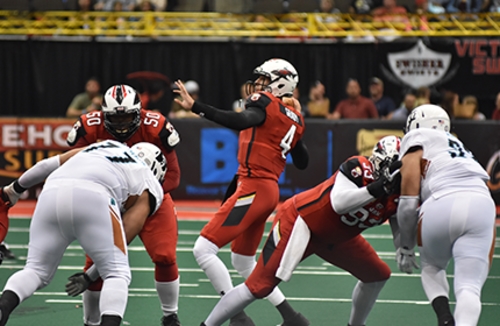 03/03/2017 7:50 PM
-
JACKSONVILLE – The Jacksonville Sharks announced today that single-game tickets for the 2017 season are now on sale. Lower bowl prices start as low as $12 per seat with various other price points throughout the arena. A full seating map is available online at jaxsharks.com/tickets/singletickets. Single game tickets may be purchased at the Jacksonville Veterans Memorial Arena box office, Ticketmaster.com or by calling the Sharks ticket office at 904-621-0700.


The Sharks regular season home opener is Saturday, March 25 versus the Georgia Firebirds. This game will kick off with "Superheros and Villains Night." The first 1,000 kids (12 and under) who attend the game will receive a free superhero cape provided Snyder Heating & Air. Special appearances include Batman, Ironman, Wonderwoman, Joker and Harley Quinn. Join the Heroes and Villains as Kids and adults alike can dress up as their favorite superhero or villain and enjoy a high flying spectacular halftime performance by XPOGO as they return to the Shark Tank to wow the fans on the field. Whether you're a hero or villain, watch the Sharks battle for their first home victory of 2017.


"We can't wait for the 2017 season to kickoff" said Sharks Executive Vice President Steve Curran. "Fans will see our continued efforts to make Shark's games the most exciting, fun and affordable family outing around. With new promotions and old favorites, great theme nights and exciting fast paced football, we are working to make Saturday night Shark nights."


The following Saturday, April 1, the Sharks face the Lehigh Valley Steelhawks for "Halloween in April". This entertaining theme encourages kids and adults to join us in their favorite costume as we team up with our spooky friends at The Scream Park. A haunted house will be set up on the concourse for your enjoyment or demise. For those who would prefer to not have a chill run up their spine during this thrilling night, there will be an established "no-scare" zone.


Following the Sharks two-game road trip, the team returns to Jacksonville on April 29 for our honorary honky tonk "Redneck Night" sponsored by Jacksonville's country radio station 99.1 FM WQIK as the Sharks take on the Columbus Lions. Country fun and Monster Trucks can be found outside of the arena at Sharkfest before the game. Fans are encouraged to style their mullets and dress down into their favorite camo or stained white t-shirts during this rowdy night on the gridiron.


On Saturday, May 6, the Sharks will take on the Corpus Christi Rage and the Sharks will humbly honor and uphold the sacrifices made by the men and women who have and continue to serve in the U.S. Armed Forces on "Military Appreciation Night" presented by Darley's Plumbing. The Sharks proudly reserve this night as a platform to generate donations to the Veteran Tickets Foundation via a military themed jersey auction, military Attack Dance Team poster sales and military-themed Sharks tees. Additionally, all military personnel (active and retired) and their families will receive a BOGO ticket offer.


Mark your calendars for May 20 and the return of "Star Wars Night" as we face the Monterrey Steel. Members of the 501st Legion will be in attendance as well as the kids from the Star Wars Academy, so grab your cameras and join the Dark Side. The first 1,000 kids in attendance (12 years and under) will receive their own Jedi Lightsaber. The Sharks will wear special Star Wars themed jerseys that will be auctioned after the game to benefit Veterans Tickets Foundation. The Jacksonville Sharks Youth Football Camp will be held during the afternoon before the May 20 game. The camp is open for boys and girls ages 6-16 who want to learn the fundamentals of the game from Shark players and coaches.


On Saturday, June 3, the Sharks welcome pirates and princesses of all ages to "Pirates/Princesses Night." Also on this night, the Sharks will recognize all teachers, administrators and school employees in celebration of Education Appreciation with a BOGO ticket offer. Elementary school children will also receive a free ticket with the purchase of a paying adult. (Maximum of 2 free kids tickets 12 years and under per 1 paying adult).


It's "Christmas in June" as we take on the High Country Grizzlies on Saturday, June 10. It's never too early to be in the Christmas spirit. Expect a guest appearance from Santa & Mrs. Claus and a performance from the Jr. Attack Dance Team as they spread holiday cheer to all in attendance. .


The 2017 regular season closes with "80's Night"on June 17 presented by the Duval County Supervisor of Elections, against the Monterrey Steel. We will moon walk to the rhythm of not only a winning decade, but a winning season. Bringing back big hair, neon and zebra pants, as fans will enjoy a memorable last game of the regular season as we get ready for the playoffs.


Date Opponent Theme Time

3/25 Georgia Super Heroes and Villains 7pm

4/1 Lehigh Valley Halloween Night 7pm

4/29 Columbus Redneck Night 7pm

5/6 Corpus Christi Military Appreciation Night 7pm

5/20 Monterrey Star Wars Night 7pm

6/3 Dayton Pirates and Princesses Night 7pm

6/10 High Country Christmas in June 7pm

6/17 Monterrey 80's Night 7pm


In addition to single-game tickets, both group packages and season tickets are available. Groups of 15 or more can take advantage of discounts of up to 30% off equivalent single-game tickets, subject to availability. Season ticket packages offer the best value, with two seats to each Sharks home game available for as low as $99.


About the Jacksonville Sharks


The Jacksonville Sharks are members of the National Arena League (NAL). The ArenaBowl XXIV and four-time South Division Champions play all home games at the Jacksonville Veterans Memorial Arena. Sharks Nation Memberships for the 2017 season are now available. Memberships start as low as $99. To become a Shark Nation member or for more information please call (904) 621-0700. Follow the Sharks on facebook at facebook.com/jaxsharks and on Twitter and Instagram @jaxsharks, as well as the Attack Dance Team at facebook.com/sharkattackdance and Chum at facebook.com/chumsharks.