News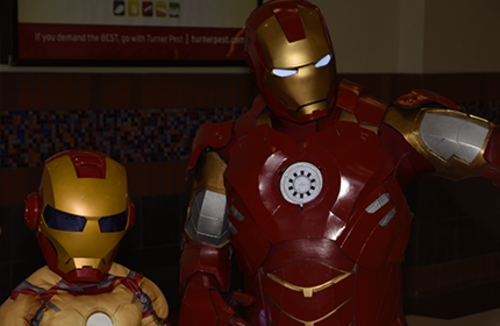 03/24/2017 11:29 AM
-
JACKSONVILLE – The Sharks return to Jacksonville Saturday, March 25, as we host the Georgia Firebirds for Superhero/Villains Night. Kickoff is set for 7:00p.m. at the Veteran's Memorial Arena.


The Sharks hope to continue their momentum after their first win last week in Columbus, Georgia. Jacksonville will face the Georgia Firebirds a second time, defeating them earlier in the month in a preseason game in Albany, GA.


Whether you are a longtime Season Ticket Holder or about to head to your first Sharks game, please see below for a rundown of what to expect at the Shark Tank Saturday night!


Superhero & Villians Night

Join the Sharks for their first home opener as we put on Superhero/Villains Night! Come dressed up as your favorite superhero or villain as we kick off the season against the Georgia Firebirds. The first 1,000 kids (12 and under) in attendance will receive a free superhero cape provided by Snyder Heating & Air. Whether you're a hero or villain, watch the Shark battle for their first home victory of the 2017 season.


Suite/Duval Street Entrance

This entrance will be open for all Sharks season tickets holders this season starting at 530pm. After that, anyone can enter through this entrance.


New Noise Policy

The Sharks allow cowbells (8" in height 6" in width max). Don't like the noise? There is also be noise maker free sections. To request information on these new sections, call the Sharks Ticket Office 904-621-0700 or contact [email protected] We will continue with the policy of fans NOT being able to bring large buckets or aerosol air horns into the arena.


"Bring a Friend" and "Early Bird" Ticket Voucher

Bring a friend to game this week and introduce them the Sharks football! Another benefit of being a Sharks Nation Member.


Shark Nation Membership Experiences

Don't miss out on your Shark Nation Membership Experience! Depending on your Shark Nation Membership level, you may have chosen Chalk Talk with Coach Stoute, the Player Intro Experience, the On-Field Experience or the Sharks Locker Room Tour. Whatever the Experience you have chosen, be on the lookout for your instructions via email on how to attend your experience. Didn't get the email to sign-up for your experiences? Email [email protected]


SharkFest

SharkFest, our pre-game block party held outside the arena, is back and better than ever this season! SharkFest begins at 5:00 p.m. Batman, Wonder Woman, Iron Man, Harley Quinn and the Joker will be available for photo opportunities with the fans before the game. The Boy Scouts will bring a rock climbing wall for fans of all ages to show us their Superhero abilities! Many of our corporate partners will be set up at SharkFest as well, so be sure to stop by their displays and check out everything they have to offer!


Halftime

Join the heroes and villains as kids and adults alike dress up as their favorite superhero or villain and enjoy a high-flying spectacular halftime performance by our partners XPOGO as they return to the Shark Tank to wow our fans.


Fling-A-Football

How's your aim? Presented by our friends at Jaguar Power Sports, our halftime Fling-A-Football promotion gives you a chance to win a prize package that includes $200 of Sharks Bucks and a Sharks customized jersey! At just $1 per throw (and 6 for $5), you might as well give it a shot! Be sure to have your mini-footballs ready when halftime rolls around! Fling-A-Footballs are available for purchase at the Jaguar Power Sports display at SharkFest, as well as inside the arena on the main concourse until the middle of the second quarter.


Arena Club/Reef and Cove Suites Buffet Menu

Pulled Pork Sliders - BBQ Sauce on the side.
Buffalo Chicken Wings - Breaded Chicken Wings, with Ranch, Celery and hot sauce on the side.
Baked Beans
Kettle Chips with French Onion Dip
Colesaw

Drink Specials

$5 Draft beers at section 102, section 110 and the arena club.
Food Specials
We will fish tacos in the sea best section for $7


Doors Open

On Saturday, the doors open at 5:30 p.m. for season ticket holders and 6:00 p.m. for the general public. The game kicks off at 7:00 p.m.


About the Jacksonville Sharks


The Jacksonville Sharks are members of the National Arena League (NAL). The ArenaBowl XXIV and four-time South Division Champions play all home games at the Jacksonville Veterans Memorial Arena. Sharks Nation Memberships for the 2017 season are now available. Shark Nation Memberships start as low as $99. To become a Shark Nation member or for more information please call (904) 621-0700. Follow the Sharks on facebook at facebook.com/jaxsharks and on Twitter and Instagram @jaxsharks, as well as the Attack Dance Team at facebook.com/sharkattackdance and Chum at facebook.com/chumsharks.