News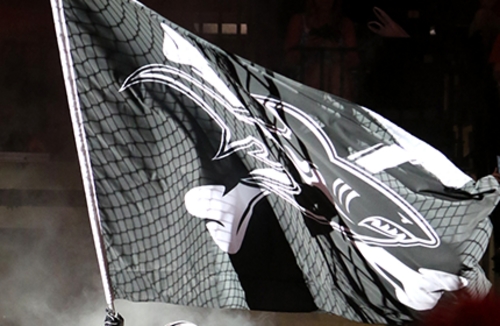 06/02/2017 11:46 AM
-
JACKSONVILLE – The Jacksonville Sharks will return to the Shark Tank on Saturday, June 3 for Pirates and Princesses Night to play against the Dayton Wolfpack at the Veteran's Memorial Arena at 7:00 p.m.



The unbeaten Jacksonville Sharks play at home following their return from Corpus Christi Texas, where the Sharks dominated the Rage 71-6. The Sharks will play for the home crowd on Pirates and Princesses Night against the 0-6 Dayton Wolfpack. The Sharks look to continue their consecutive win streak as this will be the first time the Sharks and Wolfpack will go head-to-head in the Shark Tank.



Whether you are a longtime Season Ticket Holder or about to head to your first Sharks game, please see below for a rundown of what to expect at the Shark Tank Saturday night!



Pirates and Princesses Night

This week, the Sharks bring back Pirates and Princesses Night, dedicated to teachers and school administrators in light of education appreciation. For this game only, Kids are Free! Receive two kids tickets (12 and under) with the purchase of one adult ticket. We also have a BOGO ticket offer especially for teachers, school administration and school employees. Kids can dress up as Pirates or Princesses and will have the chance to take their pictures with themed characters in front of the main entrance of the arena during SharkFest and on the main concourse throughout the game. Scheduled to appear are Captain Jack Sparrow, Anna & Elsa, Snow White, Belle, Rapunzel and Jasmine.



Family Four Packs

Enjoy four tickets, four hot dogs, four bags of chips and four sodas all for $80.



Parking Passes

You may pick up your season parking passes at the Customer Service table behind Section 106 throughout the game.



Season Ticket Holder Gifts

Those who are owed season tickets gifts, the beach towels and insulated tote bags will be distributed at our June 10 game.



Suite/Duval Street Entrance

This entrance will be open for all Sharks season tickets holders this season starting at 5:30pm. After that, anyone can enter through this entrance.



Noise Policy

The Sharks allow cowbells (8" in height 6" in width max). Airhorns and VuVuZela horns are not permitted into the arena. Don't like the noise? There is also be noise maker free sections. To request information on these new sections, call the Sharks Ticket Office 904-621-0700 or contact [email protected] We will continue with the policy of fans NOT being able to bring large buckets or aerosol air horns into the arena.



"Bring a Friend" and "Early Bird" Ticket Voucher

Bring a friend to game this week and introduce them the Sharks football! Another benefit of being a Sharks Nation Member that is available in your season tickets. This benefit expires after the June 3 game to act now!



Shark Nation Membership Experiences

Don't miss out on your Shark Nation Membership Experience! Depending on your Shark Nation Membership level, you may have chosen Chalk Talk with Coach Stoute, the Player Intro Experience, the On-Field Experience or the Sharks Locker Room Tour. Whatever the Experience you have chosen, be on the lookout for your instructions via email on how to attend your experience. Didn't get the email to sign-up for your experiences? Email [email protected]



SharkFest

SharkFest, our pre-game block party held outside the arena, is back and better than ever this season! SharkFest begins at 5:00 p.m. In addition to our rock wall, a bounce house will be present for all children to enjoy.



Halftime
During halftime, there will be a special performance by the Inflatamaniacs.



Attack Dance Team Calendar

The 2017-2018 Attack Dance Team Calendar has been released! Calendars will be on sale for $10 at the merchandise stand and on the field following the game. The 2017-2018 dancers that appear in this year's calendar will be announced during the game to debut their 2017-18 calendar photo.



Fling-A-Football

How's your aim? Our halftime Fling-A-Football promotion gives you a chance to win a prize package that includes $200 of Sharks Bucks and a Sharks customized jersey! At just $1 per throw (and 6 for $5), you might as well give it a shot! Be sure to have your mini-footballs ready when halftime rolls around! Fling-A-Footballs are available for purchase at the Jaguar Power Sports display at SharkFest, as well as inside the arena on the main concourse until the middle of the second quarter.



The New Dick Wings and Grill Concession Stand

A new addition to the Sharks feeding frenzy at the arena is the brand new Dicks Wings and Grill Concession Stand located in the food court behind section 103. Enjoy all your Dicks Wings favorites now on game day!



Arena Club/Reef and Cove Suites Buffet Menu

Drink Specials:

Sharknado $16 - Served in Mason Jar with Swimming Shark Gummies.

$6 - 16 oz. Dos Equis, Fat Tires and Modelo Beers sold in Section 104



Reef & Cove Menu:

Nacho Bar: Chips, Chili, Cheese, Sour Cream, Salsa, Jalapenos, Refried Beans

Grilled Chicken, Mexican Rice

Tossed Salad with Champagne Vinaigrette and Ranch

Beer, Wine, Bottled Water and Assorted Sodas



Arena Club Buffet:

Chef Carved Smoked BBQ Pork Loin with Hickory Onions & Assorted Sauces

Homemade Macaroni and Cheese

Seasonal Vegetables

Tomato and Cucumber Salad

Jalapeno Cheddar Cornbread



There has also been a new addition to the concession stand in the main food court. The arena has added a Dick's Wings and Grill concession stand that is located behind section 103.



Doors Open

On Saturday, the doors open at 5:30 p.m. for season ticket holders and 6:00 p.m. for the general public. The game kicks off at 7:00 p.m.



About the Jacksonville Sharks

The Jacksonville Sharks are members of the National Arena League (NAL). The ArenaBowl XXIV and four-time South Division Champions play all home games at the Jacksonville Veterans Memorial Arena. Sharks Nation Memberships for the 2017 season are now available. Shark Nation Memberships start as low as $99. To become a Shark Nation member or for more information please call (904) 621-0700. Follow the Sharks on Facebook at facebook.com/jaxsharks and on Twitter, Snapchat and Instagram @jaxsharks, as well as the Attack Dance Team at facebook.com/sharkattackdance and Chum at facebook.com/chumsharks.