News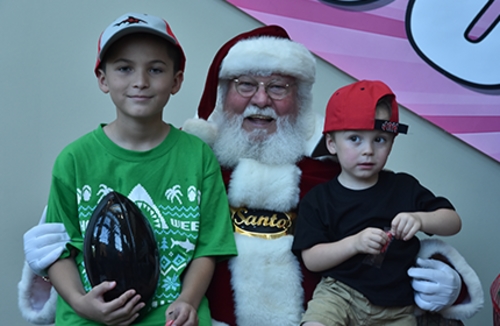 06/09/2017 11:27 AM
-
JACKSONVILLE – The Jacksonville Sharks will return to the Shark Tank on Saturday, June 10 for Christmas in June presented by Clay Eye as they go head-to-head against the High Country Grizzlies (3-6) at the Veteran's Memorial Arena at 7:00 p.m.



The still undefeated Jacksonville Sharks host another home game following their win over the Dayton Wolfpack last week. The Sharks will play for the home crowd during Christmas in June Night against the Grizzlies from Boone, NC. The Sharks look to keep their winning franchise record for most consecutive wins as this will be the second time playing the Grizzlies this season. The Sharks won the first game back in April in North Carolina 68-21..



Whether you are a longtime Season Ticket Holder or about to head to your first Sharks game, please see below for a rundown of what to expect at the Shark Tank Saturday night!



Christmas in June

It's Christmas time in the Shark Tank. It's never too early to get in the spirit with Christmas in June making its annual return. The arena will be filled with Christmas delight everywhere. Also, Santa Claus and Mrs.Claus will be greeting children before the game on the main concourse by the elevator behind Section 106. Candy Canes will be passed out all throughout the night as well. They also will be making appearances around arena to get everybody in the mood for a jolly holiday in June!



Bridge Closure

The Main Street Bridge and the Hart bridge will be closed this weekend, including for Saturday's game. The Main Street and Hart bridges are under construction due to new improvements and will be closed from Friday, June 9 at 7 p.m. until Sunday, June 11 at 6 a.m. All traffic will be detoured to the Acosta and Matthews Bridges. Please allow your group to more time to get to the game and use an alternate route.



Playoff Tickets

Playoff tickets are now on sale! Earn a Playoff Buy One Get One Free offer when you purchase two adult tickets for this weeks home game. The playoff game will kickoff June 24th at 7pm at Veterans Memorial Arena. Call our ticket office at 904-621-0700 or go to Jaxsharkstickets.com.

Family Four Packs

Enjoy Four Tickets, Four hotdogs, Four bags of chips and Four sodas all for $80. It's cheaper than going to the movies!



Season Ticket Holder Gifts

The beach towels and insulated tote bags are here! Please pick up your earned membership items between 5:30 - 8pm to the right of the trophy case at the main entrance of the arena off of A. Philip Randolph Blvd. Gifts will be distributed from this area for the next two games.



Suite/Duval Street Entrance

This entrance will be open for all Sharks season tickets holders this season starting at 5:30pm. After that, anyone can enter through this entrance.



Noise Policy

The Sharks allow cowbells (8" in height 6" in width max). Airhorns and VuVuZela horns are not permitted into the arena. Don't like the noise? There is also be noise maker free sections. To request information on these new sections, call the Sharks Ticket Office 904-621-0700 or contact [email protected] We will continue with the policy of fans NOT being able to bring large buckets or aerosol air horns into the arena.



Shark Nation Membership Experiences

Don't miss out on your Shark Nation Membership Experience! Depending on your Shark Nation Membership level, you may have chosen Chalk Talk with Coach Stoute, the Player Intro Experience, the On-Field Experience or the Sharks Locker Room Tour. Whatever the Experience you have chosen, be on the lookout for your instructions via email on how to attend your experience. Didn't get the email to sign-up for your experiences? Email [email protected]



SharkFest

SharkFest, our pre-game block party held outside the arena, is back and better than ever this season! SharkFest begins at 5:00 p.m. In addition to our rock wall, a bounce house will be present for all children to enjoy. Santa will be transported by JSO and will arrive at SharkFest at 6pm.



Halftime

During halftime, there will be a special performance by the Attack Dance Team followed by a performance by the Junior Attack Dance Team.



Attack Dance Team Calendar

The 2017-2018 Attack Dance Team Calendar has been released! Calendars will be on sale for $10 at the merchandise stand and on the field following the game. The 2017-2018 dancers that appear in this year's calendar will be announced during the game to debut their 2017-18 calendar photo.



Fling-A-Football

How's your aim? Our halftime Fling-A-Football promotion gives you a chance to win a prize package that includes $200 of Sharks Bucks and a Sharks customized jersey! At just $1 per throw (and 6 for $5), you might as well give it a shot! Be sure to have your mini-footballs ready when halftime rolls around! Fling-A-Footballs are available for purchase at the Jaguar Power Sports display at SharkFest, as well as inside the arena on the main concourse until the middle of the second quarter.



The New Dick Wings and Grill Concession Stand

A new addition to the Sharks feeding frenzy at the arena is the brand new Dicks Wings and Grill Concession Stand located in the food court behind section 103. Enjoy all your Dicks Wings favorites now on game day!



Arena Club/Reef and Cove Suites Buffet Menu

Drink Specials:

Sharknado $16 - Served in Mason Jar with Swimming Shark Gummies at all bar locations.

$6 - 16 oz. Dos Equis, Fat Tire, Goose Island, Kona Longboard and Modelo Beers sold in Section 104 at the Craft Beer Stand



Reef & Cove Menu:

Black Jack Chicken

Grilled Sausages with Onions & Peppers

Mini Hoagie Rolls

Coleslaw

Baked Beans

Mac & Cheese

Beer, Wine Bottled Water & assorted Sodas



Arena Club Buffet:

Chef Carved Flank Steak topped with Roasted Garlic Au Jus

Rosemary Red Potatoes

Chefs Selection of Mixed Vegetables

SAVOR Signature Salad

Dinner Rolls with butter



Doors Open

On Saturday, the doors open at 5:30 p.m. for season ticket holders and 6:00 p.m. for the general public. The game kicks off at 7:00 p.m.



About the Jacksonville Sharks

The Jacksonville Sharks are members of the National Arena League (NAL). The ArenaBowl XXIV and four-time South Division Champions play all home games at the Jacksonville Veterans Memorial Arena. Sharks Nation Memberships for the 2017 season are still available. Shark Nation Memberships start as low as $99. To become a Shark Nation member or for more information please call (904) 621-0700. Follow the Sharks on Facebook at facebook.com/jaxsharks and on Twitter, Snapchat and Instagram @jaxsharks, as well as the Attack Dance Team at facebook.com/sharkattackdance and Chum at facebook.com/chumsharks.