News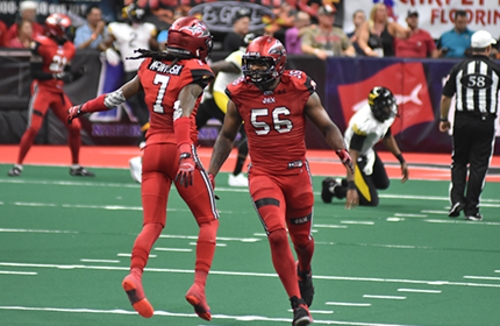 07/05/2017 12:43 PM
-
JACKSONVILLE – The National Arena League and the Jacksonville Sharks announced today that five Sharks have earned spots on the NAL's 2017 All-NAL defensive team. Defensive Lineman Jermiah Price, Jack Linebacker Charlie Hunt, Defensive Backs Erick McIntosh and Marvin Ross earned First-Team All-NAL honors. Defensive Back Micheaux Robinson and Dale Pierson earned Second Team honors. Kicker Nick Belcher was named First-Team All-NAL Kicker for his performance during the 2017 season.



The 29-year-old Price (6'3", 255) paved his way to First-Team All-NAL selection after his first season with the Sharks. Price led the Sharks with, 9.0 sacks, 10.5 tackles for loss, 3 forced fumbles and 19.5 total tackles, while missing 3 games this season. In 2016, Price was Second-Team All-IFL with the Cedar Rapids Titans and Defensive Player of the year.



The 34-year-old Hunt (6'4", 225) provided consistent pressure throughout the 2017 season at his Jack Linebacker spot.. Hunt has a total of 7 interceptions and 147 interception return yards returning 2 for TDs. Hunt also had 36.5 total tackles, 25 of them solo tackles.



The 30-year-old McIntosh (5'11", 175) had an outstanding season. McIntosh had 27.5 total tackles all while missing 3 games this season. He had 5 interceptions and 146 interception return yards returning 3 of them for TDs.



The 27-year-old Ross (5'11", 180) played only six regular season games with the Jacksonville Sharks before heading to Canada for the Calgary Stampeders. Ross manages 8 interceptions and 112 yards interception return yards. He also led the league with a kick return average of 23.3 yards per return. He also had 22 tackles and two pass breakups this past season. Ross was also named the AFL's rookie of the year in 2016.



The 27-year-old Belcher (6'0", 185) put together one of the best kicking seasons in arena football in the first year of the National Arena League. Belcher led all kickers in scoring, was second for the Sharks and fourth in the league with total points scored throughout this season (134). Belcher led four of the seven kicking categories in the NAL: PAT kicking percentage, PAT kicking attempts, PAT kicks made, and field goals made.



The Sharks are set to square off against the Columbus Lions in the 2017 NAL Championship Game on Monday, July 10. The matchup will kick off at 7:30 p.m. EST at the Jacksonville Veterans Memorial Arena,



About the Jacksonville Sharks



The Jacksonville Sharks are members of the National Arena League (NAL). The ArenaBowl XXIV and four-time South Division Champions play all home games at the Jacksonville Veterans Memorial Arena. Sharks Nation Memberships for the 2017 season are now available. Shark Nation Memberships start as low as $99. To become a Shark Nation member or for more information please call (904) 621-0700. Follow the Sharks on facebook at facebook.com/jaxsharks and on Twitter and Instagram @jaxsharks, as well as the Attack Dance Team at facebook.com/sharkattackdance and Chum at facebook.com/chumsharks.