News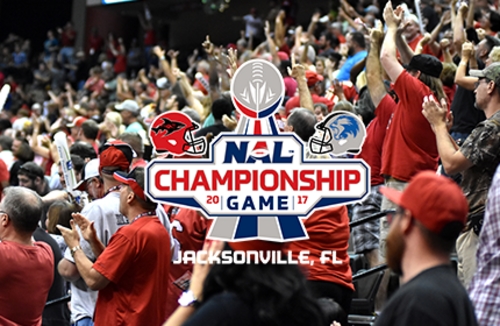 07/08/2017 6:56 PM
-
JACKSONVILLE – The Jacksonville Sharks will return to the Shark Tank on Monday, July 10 for the National Arena League Championship as they host the Columbus Lions at the Veteran's Memorial Arena for a 7:30 p.m. kickoff.


The Sharks have handed Columbus two losses this season and the Lions enter the Shark Tank looking for redemption as they face off for the 2017 NAL Championship. The winner of this game will make history as the inaugural NAL Champions.


Whether you are a longtime Season Ticket Holder or about to head to your first Sharks game, please see below for a rundown of what to expect at the Shark Tank Monday night!


Suite/Duval Street Entrance

This entrance will be open for all current Sharks season tickets holders starting at 6:00 p.m. After that, all ticketed fans can enter through this entrance.


Noise Policy

The Sharks allow cowbells (8" in height 6" in width max). We will continue with the policy of fans NOT being able to bring large buckets, hand held horns or aerosol air horns into the arena.


Unveiling the Trophy

The NAL Championship Trophy will be available for all fans to take pictures with from 6-7pm on the Main Concourse across from the merchandise stand by Section 106.


Halftime

There will be a special halftime performance by our Attack Dance Team followed by a southern rock artist Melissa Smith.


Attack Dance Team Calendar

The 2017-2018 Attack Dance Team Calendar has been released! Calendars will be on sale for $10 at the merchandise stand and on the field following the game. The 2017-2018 dancers that appear in this year calendar will be announced during the game to debut their 2017-18 calendar photo.


Fling-A-Football

How's your aim? Our halftime Fling-A-Football promotion gives you a chance to win a prize package that includes $200 of Sharks Bucks and a Sharks customized jersey! At just $1 per throw (and 6 for $5), you might as well give it a shot! Be sure to have your mini-footballs ready when halftime rolls around! Fling-A-Footballs are available for purchase at the Jaguar Power Sports display at SharkFest, as well as inside the arena on the main concourse until the middle of the second quarter.

Happy Hour Special 6:00-7:00:

available on at the main concession stand behind section 103

$3 – Hot dogs

$3 – Popcorn

$4 – Souvenir cup

available only at the premium beer stand behind section 108-109

$6 – Kona Long Board 16oz

$6 – Goose Island IPA 16oz


All Game Specials (Section 104 and Section 113 ONLY)

$5 – Ol' Smokey Moonshine (SOLD IN SECTION 104 and STAND 113 ONLY)

$6 – Sam Adams

$6 – Rolling Rock

$6 – Kona Long Board

$6 – Goose Island IPA

$6 – Modelo


Arena Club/Reef and Cove Suites Buffet Menu


Reef & Cove Menu:

Nacho Bar - Chips, chili, cheese, sour cream, salsa, jalapenos, refried beans, grilled chicken, Mexican rice, tossed salad with champagne vinaigrette and ranch. Beverages include: Beer, wine, bottled water and assorted soda.


Arena Club Buffet:

Grilled steak & chicken, onions & peppers, Mexican rice, refried beans, cheese, salsa, sour cream, jalapenos, black olives and green onions, soft flour tortillas with a mixed green salad served with ranch and Italian vinaigrette.


Doors Open

On Saturday, the doors open at 6:00 p.m. for season ticket holders and 6:30 p.m. for the general public. The game kicks off at 7:30 p.m.


About the Jacksonville Sharks


The Jacksonville Sharks are members of the National Arena League (NAL). The ArenaBowl XXIV and four-time South Division Champions play all their home games at the Jacksonville Veterans Memorial Arena. Sharks Nation Memberships for the 2018 season are now available. Shark Nation Memberships start as low as 2 seats for $150. To become a Shark Nation member or for more information please call (904) 621-0700. Follow the Sharks on Facebook at facebook.com/jaxsharks and on Twitter, Snapchat and Instagram @jaxsharks, as well as the Attack Dance Team at facebook.com/sharkattackdance and Chum at facebook.com/chumsharks.