News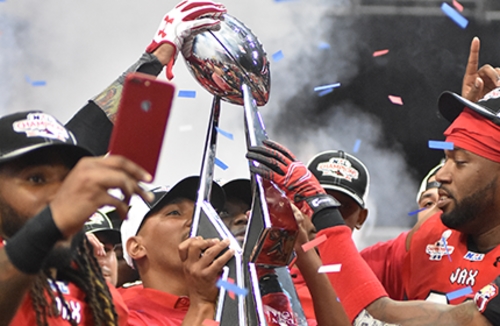 07/10/2017 9:43 PM
-
JACKSONVILLE – The Jacksonville Sharks defeated the Columbus Lions 27-21 in the National Arena League Championship to become NAL Champions in front of 9,730 of the best fans in the league.

The first points on the board went to the Sharks as Derrick Ross found the endzone on a short run from the goal line. Micheaux Robinson had a huge interception at the goal line as Columbus tried to retaliate.


Before the half, the Sharks pulled out an incredible never-before-seen play, where Damien Fleming tossed the ball back to Mo Williams who delivered a perfect pass to Mo Ruffins right into the endzone. With two missed field goals by the Lions in the last minute of the half, the Sharks successfully shut out Columbus from scoring in the first two quarters and led 13-0 going into halftime. .


At the beginning of the third quarter, the Lions scored their first points with a touchdown from Mason Espinosa to Tristan Purifoy. Damien Fleming went down hard and was replaced by Jason Boltus. The Sharks struck back towards the end of the third quarter with a short pass to Mo Williams from Bolus to allow the Sharks to go up 20-7.


Columbus made a run to catch up, scoring a touchdown early in the fourth quarter. It was later retaliated by Devin Wilson. Columbus came back and scored again to make the score a close 27-21. In the final minute, the Lions were driving down the field to score and potentially win the game. With four seconds left and less than ten yards to go, they fumbled and it was recovered by Jermiah Price to give the Sharks the ball and win the game with the most exciting finish of the season.


Most Valuable Player of the Game: DL Jermiah Price, Jacksonville
Offensive Player of the Game: WR Mo Williams, Jacksonville


Defensive Player of the Game: DB Micheaux Robinson, Jacksonville


Special Teams Player of the Game: K Nick Belcher, Jacksonville




About the Jacksonville Sharks


The Jacksonville Sharks are members of the National Arena League (NAL). The ArenaBowl XXIV and four-time South Division Champions play all home games at the Jacksonville Veterans Memorial Arena. Sharks Nation Memberships for the 2017 season are now available. Shark Nation Memberships start as low as $99. To become a Shark Nation member or for more information please call (904) 621-0700. Follow the Sharks on facebook at facebook.com/jaxsharks and on Twitter and Instagram @jaxsharks, as well as the Attack Dance Team at facebook.com/sharkattackdance and Chum at facebook.com/chumsharks.