News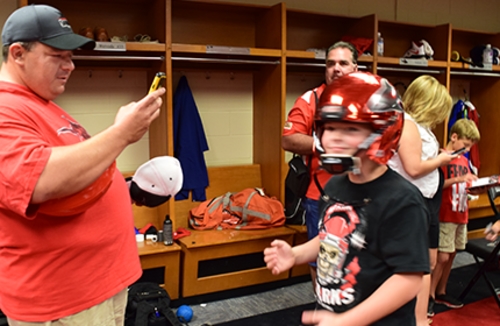 02/20/2018 9:32 AM
-
JACKSONVILLE- The defending National Arena League champion Jacksonville Sharks kick off the 2018 season in April. If you are looking for something the entire family can enjoy, then getting Sharks season tickets are a must! "It's fast, action-packed, family friendly and in your face football," stated season ticket holder J.J Lendin, aka "the Painted One". If you are considering purchasing a season ticket membership, take a look at the top three reasons you should buy today.


Season Ticket Members get to choose up to three exclusive game day experiences per season ticket. Experiences include:

a) Locker Room Tour - Take a tour of the Sharks locker room prior to kickoff. See where your favorite player sits and where coach gives his pregame speech. You can feel the excitement.

b) On-Field Experience - Ever wonder what it's like to be on the field during a game? Owning season tickets is the only way fans can get special access before the game. Talk to and walk next to the players before the player introductions.

c) Chalk Talk with Coach - How many fans can say they sat down with the coach and talked strategy right before a game? You can! Want to ask how he is going to shut down the opponents best player? Or suggest a play for this first drive! You don't have know football to spend time with coach before kickoff, but you do need Season Tickets!

d) Player Introduction Experience - High five the Sharks top stars as they leave the locker room and prepare to run through the tunnel on game day. This exclusive experience gets you "backstage" and closer than ever. Help hype up the team, see your favorite players up close and take some pictures while you're there. You won't get any closer.


2. Season Ticket Holders have a pride of ownership and become part of a winning team.

You own your seats - for the season and playoffs and they are all yours! You become a member of Shark Nation, the number one fan base in the NAL. You can be proud to tell your friends you're a Membership owner of a championship team, in the most electrifying arena in the league. Join 9,000 of your closest friends every home game as you cheer the Sharks on to victory.


3. We saved the best for last. Sharks season ticket holders also receive free playoff tickets.

You get your same seats for any and all home playoffs games included in your initial purchase. No additional money needed, so enjoy the playoffs on us! When the Sharks win, you win.


Only season ticket holders are offered these exclusive benefits and experiences. To order your season tickets today call 904-621-0700 or sign up at www.naltickets.com/sharksticketsnews .