News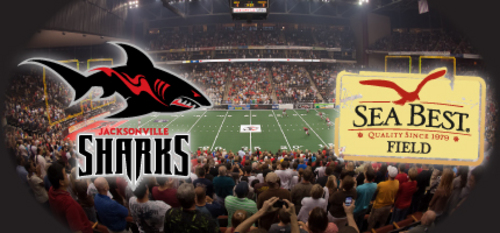 12/30/2010 10:51 AM
-
JACKSONVILLE, Fla - The Jacksonville Sharks and Beaver Street Fisheries, whose flagship brand is Sea Best, proudly announce the signing of a three-year extension where Sea Best retains field naming rights and continues to be the Sharks' presenting sponsor. The details of the agreement remain undisclosed per team policy.
"We are truly excited that Sea Best will remain the presenting sponsor of the Sharks for the foreseeable future," Managing Partner Jeff Bouchy stated. To partner with a company that has deep roots to Jacksonville dating back to the 1950's is extremely exciting for us. The Frisch families' dedication to this community over the years is something we hope to emulate in the future of our franchise. Their decision to align themselves with the Sharks and the Arena Football League is a proud moment for all of Sharks fans across northeast Florida and beyond."
The Sharks have found tremendous success on Sea Best Field, already. In 2010, the Sharks were a league best 7-1 in the regular season when playing on Sea Best Field. The Sharks hosted two nationally televised AFL Games of the Week on the NFL Network defeating arch-rival Orlando Predators 57-31 in the franchises' inaugural home game and eventual ArenaBowl champion Spokane Shock 64-49 to clinch the South Division Championship.
"We're very excited to continue the relationship between the Jacksonville Sharks and the Sea Best brand," commented Mark Frisch, Beaver Street Fisheries Vice President. "We're not only big Sharks fans, but Sea Best has a long history in Jacksonville, and we're proud to support the local teams in the community that has helped make us the company we are today."
Sea Best is the flagship brand of Beaver Street Fisheries Inc., a family-owned and operated company started 60 years ago in a storefront on West Beaver Street in Jacksonville, Fla. The brand offers a full line of frozen fish fillets including premium varieties (ahi tuna, mahi mahi, grouper, snapper), value varieties (cod, catfish, whiting), breaded seafood (shrimp, calamari, scallops) and un-breaded shellfish (lobster, crab). Some 400 people work at the Beaver Street facility in Jacksonville and at their sister company in the Bahamas.
The Jacksonville Sharks are members of the Arena Football League (AFL). The reigning South Division Champions are presented by Sea Best Seafood and play all home games on Sea Best Field at the Jacksonville Veterans Memorial Arena. The Sharks return to action Saturday, March 12, 2011 in Arizona to battle the Rattlers. The Sharks return home Friday, March 18, 2011 to take on division foe Georgia Force. Season tickets for the 2011 season are now available. To reserve your season tickets, group tickets, or for more information please call (904) 621-0700.