News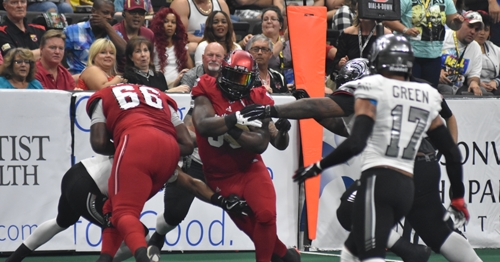 05/02/2018 2:31 PM
-
JACKSONVILLE- The Jacksonville Sharks (1-3) travel to Portland, Maine to take on the Maine Mammoths (1-2). The Sharks hope to come out with a victory on the road to improve to 2-3. In a unexpected beginning to 2018 season head coach Siaha Burley looks to correct the ship this week and to return to Jacksonville with a big victory against the new expansion team the Maine Mammoths.


Last week against the Cobras, the Sharks got off to a quick start on the defense, but couldn't quite get anything going on offense. The first two defensive drives were both turnovers and led to a scoreless first quarter. Quarterback Adrian McPherson and Ryan Walker both played, but McPherson had more reps. McPherson threw for 163 yards, one touchdown, and two interceptions. Walker entered the game shortly before halftime and left during the first drive of the third quarter. He threw for 26 yards and one touchdown.


The defense looked great, as usual, but it wasn't quite enough to get the job done. Defensive Lineman Damien Jacobs had one fumble recovery before he got injured in the first half. Defensive Back Ken Walton made one interception, in which he came out of nowhere by surprise and returned it 18 yards. The Sharks defense forced a total of six turnovers against the high-powered Cobras offense last week, which means they will be able to do the same this weekend to the Mammoths.


The key offensive player to look for this week is Quarterback Adrian McPherson. He didn't have his greatest game last week, but his second week back will show what he is capable of and who he will likely favor for the rest of the season. The defensive player to look out for is Defensive Back Marvin Ross. Last week, Ross didn't force any turnovers, but he made some stops, didn't allow many catches, and knocked some passes away. Quarterbacks who throw his direction will find out that it was a mistake to throw toward him.


Both teams coming into this week have one win, which means only one will be leaving with two wins. If the Sharks win, they will be one game closer to breaking even and going .500 on the season. If the Mammoths win, they will be 2-2 due to their Bye Week last week and the Sharks will fall to a abysmal 1-4 record.


The Sharks face the Mammoths a total of four times this season, two of which will be in Jacksonville. This Saturday's game will be streamed on Youtube Live, a link to the stream will be posted on www.facebook.com/jaxsharks


About the Jacksonville Sharks


The Jacksonville Sharks are members of the National Arena League (NAL). The 2017 NAL Champions and ArenaBowl XXIV Champions and play all home games at the Jacksonville Veterans Memorial Arena. Sharks Nation Memberships for the 2018 season are now available. Shark Nation Memberships start as low as $75. To become a Shark Nation member or for more information please call (904) 621-0700. Follow the Sharks on facebook at facebook.com/jaxsharks and on Twitter and Instagram @jaxsharks, as well as the Attack Dance Team at facebook.com/sharkattackdance and Chum at facebook.com/chumsharks.