News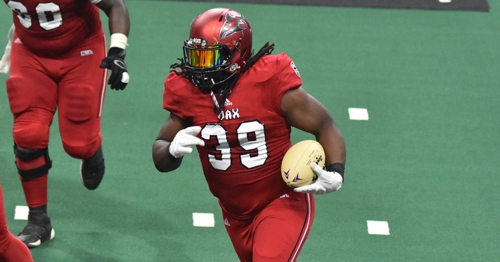 05/11/2018 2:40 PM
-
JACKSONVILLE – The Jacksonville Sharks return to the Shark Tank on Saturday for Hawaiian Night on Saturday, May 12th. This will be the Sharks third home game of the season. The Sharks currently sit at 2-3 as the 0-4 Lehigh Valley Steelhawks come to town, the Sharks defeated the Steelhawks 57-43 in Jacksonville during the 2017 season, it was the first matchup between the two teams in NAL history.


Whether you are a longtime Season Ticket Holder or about to head to your first Sharks game, please see below for a rundown of what to expect at Hawaiian Night in the Shark Tank.


Hawaiian Night
Enjoy a festive night of tiki fun as a special halftime performance will include real luau dancers and a special Hawaiian fire torch performance. Kids will be pleased to see popular Disney princess Moana and other characters at the game.


Buy One Get One Free Tickets
Enjoy a special BUY ONE GET ONE FREE Ticket Offer for tomorrow's game Call 904-621-0700, you may also purchase your tickets online by visiting ticketmaster.com or by visiting the arena ticket office.


Suite/Duval Street Entrance
This entrance will be open for all Sharks season tickets holders starting at 5:30pm. After that, all ticket holders can enter through this entrance.


We need More Cowbell!
The Sharks are proud to bring back a great tradition, cowbells (8" in height 6" in width max) will be allowed at the arena soo bring the noise and have fun by purchasing a Sharks cowbell at our merchandise stand located on the main concourse. We will continue with the policy of fans NOT being able to bring large buckets or aerosol air horns into the arena.


Lot X Closure
Due to Funkfest at Met Park, Lot X will be closed for this game. Any media or vendors with Lot X parking on game days will have Lot XX parking for this Saturday's game.


*New Bike Valet for Sharks Games*
For the first time in team history bike valet services will be available for FREE at Sharks games. Provided by: ZenCog Bike Shop, fans can ride their bikes to the sharks game and drop off their bike at the complimentary valet station located at the A Phillip A. Randolph entrance across from the baseball stadium. ZenCog will supervise your bike as your enjoy the game and have it ready for you after the game. Just look for the white bike valet feather flag outside the arena entrance.


"Bring a Friend" and "Early Bird" Ticket Voucher
Bring a friend to game this week and introduce them the Sharks football! Shark Nation members who purchased their tickets early received FREE ticket vouchers. Bring your friends and neighbors or give to your coworkers. Vouchers are good for the first 4 games. Don't forget to use them! Just another great benefit of being a Sharks Nation Member, only available to season ticket holders


Shark Nation Membership Experiences
For those members who qualify, be on the lookout next week for an email asking for your preferred game(s) and experience choice(s). Don't miss out on some great behind the scenes action. Choices include a game day Chalk Talk with Coach Burley, the Player Intro Experience, the On-Field Experience or the Sharks Locker Room Tour. After game and experiences are confirmed you will be sent and email with instructions on where to go.



Single Game Tickets Available
Get single game tickets for Hawaiian Night for only $13.50 call 904-621-0700, or visit ticketmaster.com. Additionally, ticket sales will be available at the arena box office on game day.


SharkFest
SharkFest, our pre-game block party held outside the arena, is back and better than ever this season! SharkFest begins at 5:00 p.m. In addition to our rock wall, a bounce house will be present for all children to enjoy.


Halftime
Real Hawaiian Luau dancers will be performing at halftime along with a Hawaiian fire torch performance. In addition, the Attack Dance Team will have a special halftime performance.


Attack Dance Team Calendar
The 2018-2019 Attack Dance Team Calendar has been released! Calendars will be on sale for $10 at the merchandise stand and on the field following the game. The 2018-2019 dancers that appear in this year calendar will be announced during the game to reveal their 2018-19 calendar photo. Attack Dance Team Calendars will also be on sale online at jaxsharks.com following the game.


Fling-A-Football
How's your aim? Our halftime Fling-A-Football promotion gives you a chance to win a prize package that includes $200 of Sharks Bucks and a Sharks customized jersey! At just $1 per throw (and 6 for $5), you might as well give it a shot! Be sure to have your mini-footballs ready when halftime rolls around! Fling-A-Footballs are available for purchase at the Jaguar Power Sports display at SharkFest, as well as inside the arena on the main concourse until the middle of the second quarter.


Happy Hour
Happy Hour is from 5:30pm-6:30pm with $3 Genesee Beer.


Arena Club/Reef and Cove Suites Buffet Menu
Drink Specials:
$16 Sharknados served in a mason jar with swimming shark gummies and for this game we will serve Mai Thais (white and dark rum, lime juice, orange liquer, Mai Thai mix) served in a mason jar.


Reef & Cove Menu:
Pulled Pork Sliders - BBQ sauce on the side, buffalo chicken wings with ranch and celery. Baked beans, kettle chips, french onion dip and cole slaw will be included. For beverages, beer, wine, sodas and water will be available.


Arena Club Buffet:
Bold City BBQ grilled pork loin sandwich, chef carved to order, fresh baked ciabatta roll, whiskey apple BBQ sauce, served with house made kettle chips.



Doors Open
On Saturday, the doors open at 5:30 p.m. for season ticket holders and 6:00 p.m. for the general public. The game kicks off at 7:00


About the Jacksonville Sharks
The Jacksonville Sharks are members of the National Arena League (NAL). The 2017 NAL Champions and ArenaBowl XXIV Champions and play all home games at the Jacksonville Veterans Memorial Arena. Sharks Nation Memberships for the 2018 season are now available. Shark Nation Memberships start as low as $75. To become a Shark Nation member or for more information please call (904) 621-0700. Follow the Sharks on facebook at facebook.com/jaxsharks and on Twitter and Instagram @jaxsharks, as well as the Attack Dance Team at facebook.com/sharkattackdance and Chum at facebook.com/chumsharks.