News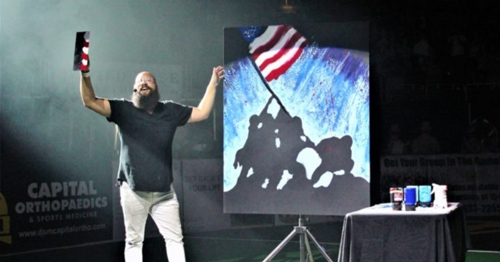 05/17/2018 5:33 PM
-
JACKSONVILLE- The Jacksonville Sharks announced today that Joe Everson, renowned artist, vocalist, musician, and photographer will perform for the Sharks at Military Appreciation Night on Saturday, May 19 at Veterans Memorial Arena with kick off schedule for 1900 hours. Everson will wow thousands in the Shark Tank on Saturday night as he will demonstrate his talent of live-action painting while simultaneously singing the National Anthem in front of thousands of Sharks fans right before the kickoff the Sharks vs. Mammoths game this Saturday. Everson's paintings are patriotic in theme, including his most famous pieces, Lady Liberty and Iwo Jima. Additionally, he has painted a "one of a kind" Derrick Ross piece that will be auctioned off too.


The Sharks will auction off the two Everson paintings after the game and all proceeds will benefit the Veteran Tickets Foundation.


"We have always auctioned off military themed jerseys and we wanted to do something different this year, stated Operating Manager and Co-Founding Owner Jeff Bouchy. Joe's unique talents will be on display for all to see and we are very excited about the two paintings that some lucky fans will get to purchase through the post-game auction and hang in their homes or office. We are a military town and we are a military team."


The Sharks will be selling their "Iwo Jima", military themed tees for a minimum donation of $5, title sponsored by Darley's Plumbing and the Attack Dance Team will be selling their military themed posters for a minimum donations of $1. The tees will be in sizes S, XL, 2X, and 3X. We have a limited supply on the tees and posters, so get there early to ensure you get these great items. All proceeds from these items will also benefit the Veteran Ticket Foundation.


If your interested in attending the Sharks game Saturday, tickets are on sale for $13.50 and the team is offering a Buy One Get One Free Ticket Offer for all Military, Active, Retired, and their families. In addition, the Sharks will offer a Family Four pack that includes four tickets, four hot dogs, four cokes, four bags of chips for only $90. To get tickets simply go to www.naltickets.com/sharkssinglegame or call 904-621-0700 for tickets. Fans, can also purchase tickets by visiting the arena box office.


About Joe Everson
Joe Everson is a nationally renowned artist known for his patriotic paintings that he creates while singing the national anthem. His videos have drawn over 190 million views and his work has been featured on FOX News, ESPN Sports Center, SB Nation, NHL.COM, Washington Times, CBS Sports, USA Today and Huffington Post. For more information about Joe Everson visit http://www.joeeverson.com.


About the Veteran Ticket Foundation
Vet Tix* provides tickets to events which reduce stress, strengthen family bonds, build life-long memories and encourage service members and veterans to stay engaged with local communities and American life. We support our troops by honoring their service and providing positive family and life experiences, during and after their years of service to our country. Vet Tix provides tickets to all branches of currently-serving Military and Veterans, including immediate family of troops KIA. Vet Tix secures tickets to sporting events, concerts, performing arts, educational and family activities across the nation. VetTixers sign up online. We verify their service. VetTixers request tickets to events that interest them, then pay a small delivery fee to receive their free tickets.

* Vet Tix is a 95% Charity


About the Jacksonville Sharks
The Jacksonville Sharks are members of the National Arena League (NAL). The 2017 NAL Champions and ArenaBowl XXIV Champions and play all home games at the Jacksonville Veterans Memorial Arena. Sharks Nation Memberships for the 2018 season are now available. Shark Nation Memberships start as low as $75. To become a Shark Nation member or for more information please call (904) 621-0700. Follow the Sharks on facebook at facebook.com/jaxsharks and on Twitter and Instagram @jaxsharks, as well as the Attack Dance Team at facebook.com/sharkattackdance and Chum at facebook.com/chumsharks.