News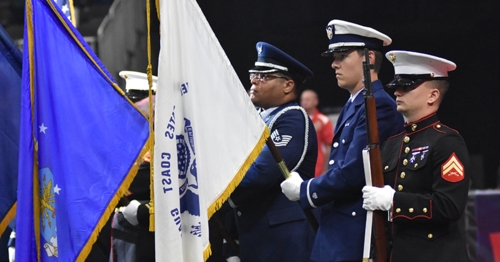 05/18/2018 3:30 PM
-
JACKSONVILLE – The Jacksonville Sharks return to the Shark Tank for Military Appreciation Night, Saturday, May 19th, 1900 hours. This will be the Sharks fourth home game of the season. The Sharks currently sit at 3-3 as the 1-4 Maine Mammoths come to town for their first-ever game in Jacksonville team history. The Sharks defeated the Mammoths earlier in the season 48-31 on the road in Portland, Maine.


Whether you are a longtime Season Ticket Holder or about to head to your first Sharks game, help us salute our Military this Saturday night in the Shark Tank. Below is everything you need to know for tomorrow's game.


Military Appreciation Night Presented by Darley's Plumbing
The Jacksonville Sharks reserve this night to honor of our active military and retired veterans that have and are serving our country. During the game the Sharks will honor multiple home town heros that have served in our armed forces. For the hearing impaired, special guest Brandon Russell will perform american sign language during the national anthem.


Military Buy One Get One Free Tickets
All Military (active, retired, and families) can receive a special Buy One Get One Free ticket offer for Military Night. To get your tickets go to www.naltickets.com/sharkssinglegame or call 904-621-0700. You may also purchase your buy one get one free tickets at the arena box office.


Doors Open
On Saturday, the doors open at 1730 hours for season ticket holders and 1800 hours for the general public. The game kicks off at 1900 hours.


Suite/Duval Street Entrance
This entrance will be open for all Sharks season tickets holders starting at 1730 hours. After that, all ticket holders can enter through this entrance.


Artist Joe Everson
The Sharks are pleased to announced renowned artist Joe Everson will attend tomorrow's game to perform the national anthem while producing a special patriotic painting titled "Iwo Jima." Everson is also painting a second painting of Sharks FB Derrick Ross. Both of Joe Everson's paintings will be auctioned off after the game and all proceeds will go to the Veteran Tickets Foundation.


Military Tees/Attack Dance Team Military Posters
The Sharks will be selling their "Iwo Jima", military themed tees for a minimum donation of $5, title sponsored by Darley's Plumbing and the Attack Dance Team will be selling their military themed posters for a minimum donation of $1. The tees will be in sizes S, XL, 2X and 3X. We have a limited supply on the tees and posters, so get there early to ensure you get these great items. All proceeds from these items will also benefit the Veteran Ticket Foundation.


Family Four Packs ARE BACK!
The Sharks will have Family Four Packs available to purchase on Saturday, the family four packs include four tickets, four hotdogs, four cokes and four bags of chips. If your interested go to www.naltickets.com/sharkssinglegame or call 904-621-0700. You may also purchase your family four packs by visiting the arena box office.


SharkFest (1700 start)
Come join us before the game at Sharkfest and enjoy the following:

The Florida National Guard will be bringing authentic military vehicles. One of the vehicles will have interactive games for kids.

Meet the Combat Vets and their bikes who are participating in tonight's opening.

See WWII vehicles stationed in front of the arena.

Rock Climbing Wall operated by the Boy Scouts of America.

DJ Dark Knights will be spinning tunes.

Take photos at the Fun Times photo booth.

Stop by our sponsor booths.


Cheap Beer!
The Sharks will have a beer vendor available so that Shark fans can enjoy happy hour outside the Sharks game. Happy Hour is active from 1730-1830 hours and will have $3 Genesee Beer, bottled water will also be available for purchase outside of the arena for Shark Fest.


JSO Officer Lance Whitaker
The Sharks will honor fallen JSO Officer Lance Whitaker with a special Sharks floral arrangement provided by Spencer's Florists. The arrangement will be placed at the Fallen Officers Memorial in the front of the arena prior to the game.


We Need More Cowbell!
The Sharks are proud to bring back a great tradition, cowbells (8" in height 6" in width max) will be allowed at the arena so bring the noise and have fun by purchasing a Sharks cowbell at our merchandise stand located on the main concourse. We will continue with the policy of fans NOT being able to bring large buckets or aerosol air horns into the arena.


*New Bike Valet for Sharks Games*
For the first time in team history bike valet services will be available for FREE at Sharks games. Provided by ZenCog Bike Shop, fans can ride their bikes to the Sharks game and drop off their bike at the complimentary valet station located at the A. Phillip Randolph entrance. ZenCog will supervise your bike as your enjoy the game and have it ready for you after the game. Just look for the white bike valet feather flag outside the arena entrance.


"Bring a Friend" and "Early Bird" Ticket Voucher (last game to use these vouchers)
Bring a friend to game this week and introduce them the Sharks football! Shark Nation members who purchased their tickets early received FREE ticket vouchers. Bring your friends and neighbors or give to your coworkers. Vouchers are good for the first 4 games. Don't forget to use them! Just another great benefit of being a Sharks Nation Member, only available to season ticket holders


Shark Nation Membership Experiences
For those members who qualify, be on the lookout next week for an email asking for your preferred game(s) and experience choice(s). Don't miss out on some great behind the scenes action. Choices include a game day Chalk Talk with Coach Burley, the Player Intro Experience, the On-Field Experience or the Sharks Locker Room Tour. After game and experiences are confirmed you will be sent and email with instructions on where to go.


Single Game Tickets Available
Get single game tickets for Military Appreciation Night for only $13.50 call 904-621-0700, or visit ticketmaster.com. Additionally, ticket sales will be available at the arena box office on game day.


Halftime
The Sharks will honor all of our young local adults that will be taking a pledge of service to our armed forces during a multiple branch Oath of Enlistment (swear-in) that will take place on the field at halftime. There will be a special military themed Attack Dance Team performance followed by an aerial assault of t-shirts provided and performed by our Florida National Guard.


Attack Dance Team Calendar
The 2018-2019 Attack Dance Team Calendar has been released! Calendars will be on sale for $10 at the merchandise stand and on the field following the game. Attack Dance Team Calendars will also be on sale online at jaxsharks.com following the game.


Fling-A-Football
How's your aim? Our halftime Fling-A-Football promotion gives you a chance to win a prize package that includes $200 of Sharks Bucks! At just $1 per throw (or 6 for $5), you might as well give it a shot! Be sure to have your mini-footballs ready when halftime rolls around! Fling-A-Footballs are available for purchase at SharkFest, as well as inside the arena on the main concourse until the middle of the second quarter.





Arena Club/Reef and Cove Suites Buffet Menu
Drink Specials:

$16 Sharknado served in a mason jar with swimming shark gummies. Military I.D.s receive a $2 discount at select bar locations.


Reef & Cove Menu:
Nacho Bar - chips, chili cheese, sour cream, salsa, jalapenos, refried beans, grilled chicken, mexican rice, tossed salad with champagne vinaigrette and ranch. Beer, wine, bottled water, and assorted sodas will be available.


Arena Club Buffet:
$14 Locally made gourmet sausages from Azar and Co. beer bratwurst or jalapeno cheddar smoked sausage served on a freshly baked roll with peppers and onions and house made kettle chips.


About the Jacksonville Sharks
The Jacksonville Sharks are members of the National Arena League (NAL). The 2017 NAL Champions and ArenaBowl XXIV Champions and play all home games at the Jacksonville Veterans Memorial Arena. Sharks Nation Memberships for the 2018 season are now available. Shark Nation Memberships start as low as $75. To become a Shark Nation member or for more information please call (904) 621-0700. Follow the Sharks on facebook at facebook.com/jaxsharks and on Twitter and Instagram @jaxsharks, as well as the Attack Dance Team at facebook.com/sharkattackdance and Chum at facebook.com/chumsharks.