News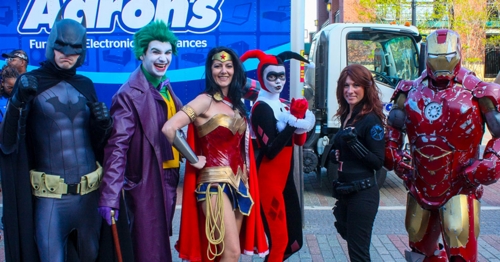 05/31/2018 3:56 PM
-
JACKSONVILLE – The Jacksonville Sharks return to the Shark Tank for Superhero and Education Appreciation Night, Saturday, June 2nd, at 7pm. This will be the Sharks fifth home game of the season. The Sharks currently sit at 5-3 as the Sharks face their arch nemesis, the 4-1 Columbus Lions. This will be the Columbus Lions first return to the Veterans Memorial Arena since the Sharks defeated them in the epic 27-21 National Arena League Championship game. However, in 2018 the Lions struck the first blow handing the Sharks their first road loss of the season, as Jacksonville's heros fell 51-41 in the Lion's lair known as the Lions den. Since then the Sharks have bounced back and have recently gone on a four-game win streak and look to soar into five-straight wins if they can manage to pumble the Lions this Saturday.


Whether you are a longtime Season Ticket Holder or about to head to your first Sharks game, help us applaud our teachers, faculty and staff for Education Appreciation Night as we look to celebrate all of our local school employees this Saturday night in the Shark Tank. Below is everything you need to know for tomorrow's game.


Education Appreciation Night
The Jacksonville Sharks reserve this night to honor all school employees in our local community. During the game the Sharks will honor multiple teachers of the year and other school employees that have been recognized as A+ members of the educational field.


School is out and Kids are FREE!
That's right, it's time to enjoy summer with the Sharks, get two free kids tickets (ages 12 & under) with the purchase of an adult ticket. To get your free kids tickets call 904-621-0700 or go to www.naltickets.com/sharkssinglegame . You may also purchase your tickets at the arena box office.


Education Appreciation Buy One Get One Free Tickets
All School Employees (teachers, faculty, and staff) can receive a special Buy One Get One Free ticket offer for Education Appreciation Night. To get your tickets go to www.naltickets.com/sharkssinglegame or call 904-621-0700. You may also purchase your buy one get one free tickets at the arena box office. *Offer not valid in navy section seating.


Superhero Appearances
The Sharks will have a number of superheros in attendance for fans to meet before the game, this exclusive superhero guestlist includes: The Flash, Batman, Iron Man, Wonder Woman, Black Panther, and Captain America.


Doors Open
On Saturday, the doors open at 5:30pm for season ticket holders and 6pm for the general public. The game kicks off at 7pm.


We Need More Cowbell!
The Sharks are proud to bring back a great tradition, cowbells (8" in height 6" in width max) will be allowed at the arena so bring the noise and have fun by purchasing a Sharks cowbell at our merchandise stand located on the main concourse. We will continue with the policy of fans NOT being able to bring large buckets or aerosol air horns into the arena.


Suite/Duval Street Entrance
This entrance will be open for all Sharks season tickets holders starting at 5:30pm. After that, all ticket holders can enter through this entrance.


2018 Junior Attack Dance Camp
The 2018 Junior Attack Dance Camp begins on Friday at 5:30pm at Infinity Dance Studio. On game day the Jr. Attack will perform on the field at halftime! If you are looking to sign your daughter up for Jr. Attack Dance Camp it's not too late go to http://jaxsharks.com/dancers/junior-attack-dance/ to sign up.


Happy Hour
Happy Hour is active from 5:30pm-6:30pm and will have $3 Genesee Beer, Rolling Rock, and Natural Light, bottled water will also be available for purchase.


*New Bike Valet for Sharks Games*
For the first time in team history bike valet services will be available for FREE at Sharks games. Provided by ZenCog Bike Shop, fans can ride their bikes to the Sharks game and drop off their bike at the complimentary valet station located at the A. Phillip Randolph entrance. ZenCog will supervise your bike as your enjoy the game and have it ready for you after the game. Just look for the white bike valet feather flag outside the arena entrance.


"Bring a Friend" and "Early Bird" Ticket Voucher (last game to use these vouchers)
Bring a friend to game this week and introduce them the Sharks football! Shark Nation members who purchased their tickets early received FREE ticket vouchers. Bring your friends and neighbors or give to your coworkers. Vouchers are good for the first 4 games. Don't forget to use them! Just another great benefit of being a Sharks Nation Member, only available to season ticket holders


Shark Nation Membership Experiences
For those members who qualify, be on the lookout next week for an email asking for your preferred game(s) and experience choice(s). Don't miss out on some great behind the scenes action. Choices include a game day Chalk Talk with Coach Burley, the Player Intro Experience, the On-Field Experience or the Sharks Locker Room Tour. After game and experiences are confirmed you will be sent and email with instructions on where to go.


Single Game Tickets Available
Get single game tickets for Superhero Night and Education Appreciation Night for only $13.50 call 904-621-0700, or visit ticketmaster.com. Additionally, ticket sales will be available at the arena box office on game day.


Halftime
Enjoy a dazzling performance by the 2018 Jr. Attack Dance Team. In addition, the Sharks will use the halftime break to recognize multiple teachers in our local community.


Attack Dance Team Calendar
The 2018-2019 Attack Dance Team Calendar has been released! Calendars will be on sale for $10 at the merchandise stand and on the field following the game. Attack Dance Team Calendars will also be on sale online at jaxsharks.com following the game.


Fling-A-Football
How's your aim? Our halftime Fling-A-Football promotion gives you a chance to win a prize package that includes $200 of Sharks Bucks! At just $1 per throw (or 6 for $5), you might as well give it a shot! Be sure to have your mini-footballs ready when halftime rolls around! Fling-A-Footballs are available for purchase inside the arena on the main concourse until the middle of the second quarter.


Arena Club/Reef and Cove Suites Buffet Menu

Drink Specials:

$16 Sharknados served in a mason jar with swimming shark gummies. Hulk Smash served in a mason jar.


Reef & Cove Menu:

Black jack chicken, grilled sausages with onions & peppers, mini hoagie rolls, coleslaw, baked beans, mac & cheese, beer, wine, bottled water and assorted sodas.


Arena Club Buffet:

$16 Blackened Prime Rib Sandwich. Chef carved to order, served on a freshly baked roll, horseradish cream, and house made kettle chips.


About the Jacksonville Sharks
The Jacksonville Sharks are members of the National Arena League (NAL). The 2017 NAL Champions and ArenaBowl XXIV Champions and play all home games at the Jacksonville Veterans Memorial Arena. Sharks Nation Memberships for the 2018 season are now available. Shark Nation Memberships start as low as $75. To become a Shark Nation member or for more information please call (904) 621-0700. Follow the Sharks on facebook at facebook.com/jaxsharks and on Twitter and Instagram @jaxsharks, as well as the Attack Dance Team at facebook.com/sharkattackdance and Chum at facebook.com/chumsharks.