News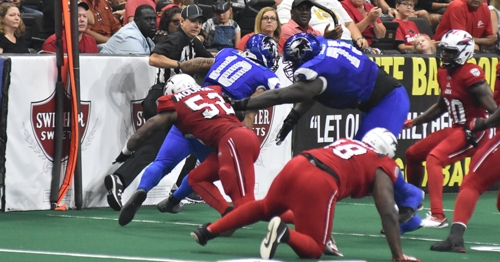 07/05/2018 8:41 AM
-
JACKSONVILLE- The Jacksonville Sharks (8-4) travel to Columbus, Georgia this weekend to go head-to-head versus the Columbus Lions (7-3), who is currently sitting at the number one spot. These two teams have faced each other a total of two times this season, this weekend being their third. If the Sharks win this weekend, they will be in first place by one game. If the Sharks and Massachusetts Pirates (8-4) win, those two teams will be tied for first place in the league.


The first game against the Lions didn't go as planned, as the Lions took down the Sharks 51-41 in Columbus. In that first match-up, the Sharks' starting quarterback was Ryan Walker, who threw for 231 yards, six touchdowns, and two interceptions. In the second game between the two, the Lions got to see Sharks Quarterback Adrian McPherson for the first time. In that second game between the two, in Jacksonville, McPherson threw for 327 yards, eight touchdowns, and one interception, which is the best game yet as a Shark. Wide Receiver finished the game with 90 yards and three touchdowns. Cody Saul had 55 yards and one touchdown. Tom Gilson had 68 yards and two touchdowns.


The Lions allow an average of 47.5 points per game,12.5 rushing yards per game, 222 passing yards per game, and five passing touchdowns per game this season in the entire NAL. Against the Sharks, they give up an average of 54 points per game, 17.5 rushing yards per game, 279 passing yards per game, and seven passing touchdowns per game, which is all more than what the Lions normally give up.


Last week was a slow game for the Sharks, in a 34-31 victory at the Lehigh Valley Steelhawks. A late fourth-quarter blocked field goal secured a victory for the Sharks as time ran out. The Sharks looked to be up by multiple scores at halftime, but the Steelhawks fought hard and allowed the Sharks to only 10 points in the second half.


This weekend's game will be at the Columbus Civic Center on Saturday at 7:00 pm (ET). The game will be streamed on Youtube Live, a link to the stream will be posted on www.facebook.com/jaxsharks


About the Jacksonville Sharks


The Jacksonville Sharks are members of the National Arena League (NAL). The 2017 NAL Champions and ArenaBowl XXIV Champions and play all home games at the Jacksonville Veterans Memorial Arena. Sharks Nation Memberships for the 2018 season are now available. Shark Nation Memberships start as low as $75. To become a Shark Nation member or for more information please call (904) 621-0700. Follow the Sharks on facebook at facebook.com/jaxsharks and on Twitter and Instagram @jaxsharks, as well as the Attack Dance Team at facebook.com/sharkattackdance and Chum at facebook.com/chumsharks.