News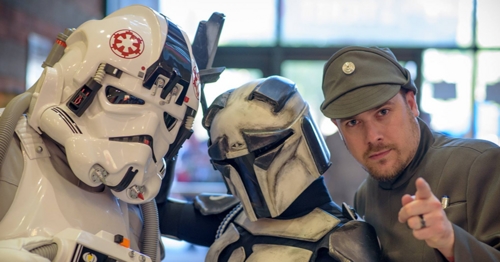 07/19/2018 3:17 PM
-
JACKSONVILLE – The Jacksonville Sharks return to the Shark Tank for Star Wars Night, Saturday, July 21, at 7 pm. This will be the Sharks seventh home game of the season. The Sharks currently sit at 8-5 as the 8-4 Columbus Lions. The last time these two teams faced off the Lions beat the Sharks 48-43 in Columbus. However, the Lions have never beaten the Sharks in the Shark Tank. Saturday's game may decide not only who will take 1st place in the National Arena League but may also decide if the Sharks will have a home playoff game.


Whether you are a longtime Season Ticket Holder or about to head to your first Sharks game, check out everything you need to know for tomorrow's game.


Star Wars Night

Join the Shark Side this Saturday as we host Star Wars Night. See characters from every Star Wars Movie and witness members of the 501st Legions. Darth Vader will be in attendance as well as members of the Last Jedi Council Academy. May the force be with you!


FREE Jedi Lightsabers

The first 1,000 kids 12 & under in attendance will receive free Jedi Lightsabers.


Save $44 on Family Four Packs

The Sharks have SLASHED their prices for Family Four Packs. The force is strong with this deal, enjoy 4 tickets, 4 cokes, 4 hot dogs, and 4 bags of chips. To get your family four packs reserved call 904-621-0700 or go to www.naltickets.com/sharksstarwarsnight . You may also purchase your Family Four Packs at the arena box office.
Sharks Star Wars Jersey Auction
Get your very own Sharks Star Wars Game Worn Jersey after the game during our jersey auction. The auction will be held during the post-game autograph session.
$35 Lucas Films Licensed Sharks T-Shirts for Sale
Get your official Sharks Star Wars Night T-shirts at Saturday's game. T-shirts will be available for purchase on the main concourse at the Sharks merchant stand.
Single Game Tickets
Get Star Wars Night tickets for as low as $13.50, visit www.naltickets.com/sharksstarwarsnight or call 904-621-0700. You can also purchase your tickets at the arena box office.
Doors Open
On Saturday, the doors open at 5:30 pm for season ticket holders and 6 pm for the general public. The game kicks off at 7 pm.
We Need More Cowbell!
The Sharks are proud to bring back a great tradition, cowbells (8" in height 6" in width max) will be allowed at the arena so bring the noise and have fun by purchasing a Sharks cowbell at our merchandise stand located on the main concourse. We will continue with the policy of fans NOT being able to bring large buckets or aerosol air horns into the arena.
Suite/Duval Street Entrance
This entrance will be open for all Sharks season tickets holders starting at 5:30 pm. After that, all ticket holders can enter through this entrance.
Happy Hour
Happy Hour is active from 5:30 pm - 6:30 pm and will have $3 Genesee Beer, Rolling Rock, and Natural Light, bottled water will also be available for purchase.
*New Bike Valet for Sharks Games*

For the first time in team history, bike valet services will be available for FREE at Sharks games. Provided by ZenCog Bike Shop, fans can ride their bikes to the Sharks game and drop off their bike at the complimentary valet station located at the A. Phillip Randolph entrance. ZenCog will supervise your bike as you enjoy the game and have it ready for you after the game. Just look for the white bike valet feather flag outside the arena entrance.


Shark Nation Membership Experiences

For those members who qualify, be on the lookout next week for an email asking for your preferred game(s) and experience choice(s). Don't miss out on some great behind the scenes action. Choices include a game day Chalk Talk with Coach Burley, the Player Intro Experience, the On-Field Experience or the Sharks Locker Room Tour. After game and experiences are confirmed you will be sent an email with instructions on where to go.


Season Ticket Holder Gifts

Exclusive Season Ticket holder gifts will be available for pick up at the Sharks game. Gift pickup will be located on the main concourse at the FIN-Formation table located near the elevator. The Fin-Formation table will be open throughout the game until the third quarter.


Halftime

Enjoy a special Star Wars themed Attack Dance Team performance followed by a Jedi Lightsaber performance by The Last Jedi Council Academy and Fling a Football will occur before the end of halftime.


Attack Dance Team Calendar

The 2018-2019 Attack Dance Team Calendar has been released! Calendars will be on sale for $10 at the merchandise stand and on the field following the game. Attack Dance Team Calendars will also be on sale online at jaxsharks.com following the game.


Fling-A-Football

How's your aim? Our halftime Fling-A-Football promotion gives you a chance to win a prize package that includes $200 of Sharks Bucks! At just $1 per throw (or 6 for $5), you might as well give it a shot! Be sure to have your mini-footballs ready when halftime rolls around! Fling-A-Footballs are available for purchase inside the arena on the main concourse until the middle of the second quarter.


Arena Club/Reef and Cove Suites Buffet Menu

Drink Specials:

Blue Milk of Tatooine - Bombay Gin, Coconut Cream, Vanilla Syrup, Almond Syrup, Blue Curacao, and pineapple juice served in a Mason Jar.


Reef & Cove Menu:

Pulled pork sliders with BBQ sauce on the side, buffalo chicken wings with ranch & celery. Sides also include baked beans, kettle chips, french onion dip, coleslaw. Beverages will include beer, wine, bottled water, and assorted sodas.


Arena Club Buffet:

Bold City BBQ grilled pork loin sandwich for $14. Chef carved to order and served on a freshly baked ciabatta roll with whiskey apple BBQ sauce and homemade kettle chips.


About the Jacksonville Sharks


The Jacksonville Sharks are members of the National Arena League (NAL). The 2017 NAL Champions and ArenaBowl XXIV Champions and play all home games at the Jacksonville Veterans Memorial Arena. Shark Nation Memberships for the 2019 season are now available and start as low as $75 for the full season. To become a Shark Nation member or for more information please call (904) 621-0700. Follow the Sharks on facebook at facebook.com/jaxsharks and on Twitter and Instagram @jaxsharks, as well as the Attack Dance Team at facebook.com/sharkattackdance and Chum at facebook.com/chumsharks.