News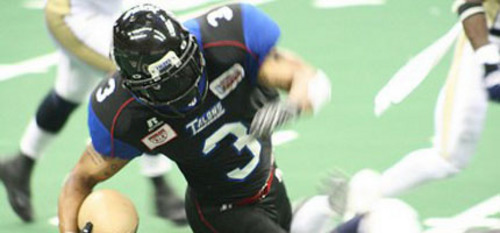 02/04/2011 10:00 AM
-
JACKSONVILLE, Fla - One of the most explosive players in Arena Football has arrived in Jacksonville and will suit up in blood red as a Shark for the 2011 season. Hughley, who plays both wide receiver and kick returner, is coming off of a stellar season with the Tulsa Talons where he finished second in the AFL for all purpose yards (2808), and fourth in all purpose yards per game (175.5). In 2010, Hughley was named to the AFL's all Iron-Man Team and in 2009 he won the af2 Iron-Man of the Year Award.
Hughley's impressive numbers and awards come matched with talented athleticism and a dominant mind set. Hughley said, "Every time I touch the ball, I have the potential to score. I bring a good mentality to the game, and I want to be the work horse, the guy who needs all the weight on his shoulders. If you want to be successful, you have to have that kind of mentality and game plan."
Hughley's presence in the Sharks receiving core is likely to make a large impact on a Jacksonville offense that finished the regular season eighth in total scoring and eleventh in offensive yards per game. Passing Hughley the ball for the 2011 season will be veteran quarterback and Arena Football legend Aaron Garcia who holds the AFL all-time record for most passing touchdowns. The youngster and the veteran have the potential to become an explosive combination throughout the 2011 season. Hughley added, "I think working with [Garcia] will make me a much better player. When he starts year after year, you know he's doing something right. Hopefully, I can learn a lot from him and throughout the season we can get on the same page. Then, we can make big things happen." Hughley has already proven how dominant he can play in the Sharks home. He blasted the Sharks at Sea Best Field in 2010 with a season high four receiving touchdowns and one kickoff return touchdown.
Hughley is known by his family and friends as "Ridiculous" due to his spectacular plays. He cannot wait to get on the field and put on a show for Sharks fans. "The biggest difference between Tulsa and Jacksonville is the fan base. When we as players see ten-thousand plus fans cheering us on, it makes us play better and play with more excitement. That kind of loyalty to the team makes the players feel good."
"It's going to be an exciting season for sure. The South division is a tough one, and every game is going to be a close, tough fought game. We are going to work hard to make every game as exciting as possible for the fans," Hughley notes in an encouraging statement for Sharks fans. The Sharks first home game is March 18, 2011 against the Georgia Force and with Hughley in addition to an already vicious roster, the Sharks look to put 2010 behind them and make 2011 a season for Jacksonville to remember.