News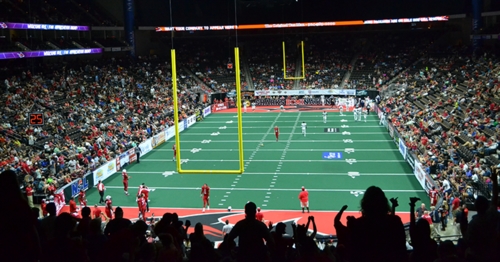 03/25/2019 11:10 AM
-
JACKSONVILLE – The Jacksonville Sharks are set to kick off the 2019 season and celebrate their 10th year as a franchise. To honor their decade of dominance, the Sharks are planning some unique and never seen before theme nights as well as bringing back some classic fan favorites.


April 13 vs. New York Streets - KISS Night: For this first time in team history the Sharks open the season at home. To celebrate the Sharks are going to ROCK THE TANK with an awesome tribute to the band KISS. Following the Arena's Friday night concert, the Sharks will honor the iconic Rock Band with a half time tribute concert by KISS America. From the big stage to the turf let's rock out to the top hits from KISS while the Sharks perform big hits of their own on the NAL's newest franchise, the New York Streets. Whether you like dressing up like Paul or decide to paint your face like Gene, you can look forward to a great night of Rock!


May 11 vs. Carolina Cobras - Fortnite & First Responders Night: A new addition, this theme will be the first-ever "Fortnite" night, promoting one of the most popular modern video games of all time. Get ready to FLOSS and bring your favorite "Fortnite" celebrations to the stands while the Sharks bring them to the endzone. Wonder what all the fuss is about? Check out some fortnite action as contestants battle to win the big tournament. In addition, the Sharks will reserve this night for the first responders in our community. All first responders and their families will receive a buy one get one free ticket offer. Help us acknowledge the sacrifices they make to keep us safe & sound.


May 18 vs. Orlando Predators - Military Appreciation: What a perfect night for the Sharks to battle their longtime rivals the Orlando Predators. It's Military Appreciation Night, help us salute those who have served and are currently serving in our armed forces. All active and military veterans and their families we receive a special buy one get one ticket offer. Enjoy an exciting on-field introduction and military theme tributes during the game.

June 8 vs. Columbus Lions - Education Appreciation Night & Superhero Night: This one is for all the real-life heroes, our teachers! Join us as we welcome all the educators & school employees. Help us give them a warm welcome and thank them for all that they do. In addition to the real-life heroes, it's Superhero Night. Bang, Boom, Zoom, dress up as your favorite superhero or villain and enjoy some exciting Sharks action. Teachers, Administrators, and Staff enjoy a Buy One Get One Free ticket offer for this night as you enjoy your Summer break.


June 22 vs. New York Streets - Star Wars Night: Something that kids and adults can all agree on enjoying (outside of Sharks football) is STAR WARS! This iconic theme night allows fans of all ages to dress up in costumes and look back on their greatest memories from this legendary saga. Whether you root for the Empire or side with the Rebels you're going to enjoy this game, it's going to be out of this Universe.


July 20 vs. Massachusetts Pirates - Halloween in July: Halloween Night returns for 2019. Last year, fans had a blast with our Mini Haunted Houses provided by our spooky friends at the 13th Floor. This year, we are encouraging fans to dress up and check out what's new and show your Halloween spirit. Do you have what it takes to win this year's costume contest? Wear your favorite costume for a chance to win. Fans will judge both kids and adult winners.


July 27 vs. Orlando Predators - 70's Night & Fan Appreciation Night: The 70s had the best music ever. It had everything, Rock, Soul, Funk, Disco, Heavy Metal. With songs that asked the questions? Is this Love? and Isn't she lovely? To songs that told you what to do, Walk this way and Shake your booty. The music will be so good that I'll be there. Special thank yous to fans all night long with discounted merchandise to free giveaways. One of our favorites, you won't wanna miss it.



About the Jacksonville Sharks


The Jacksonville Sharks are members of the National Arena League (NAL). The 2017 NAL Champions and ArenaBowl XXIV Champions play all their home games at the Jacksonville Veterans Memorial Arena. Shark Nation Memberships for the 2019 season are still available. Shark Nation season Memberships start as low as $75. To become a Shark Nation member or for more information please call (904) 621-0700. Follow the Sharks on facebook at facebook.com/jaxsharks and on Twitter and Instagram @jaxsharks, as well as the Attack Dance Team at facebook.com/sharkattackdance and Chum at facebook.com/chumsharks.