News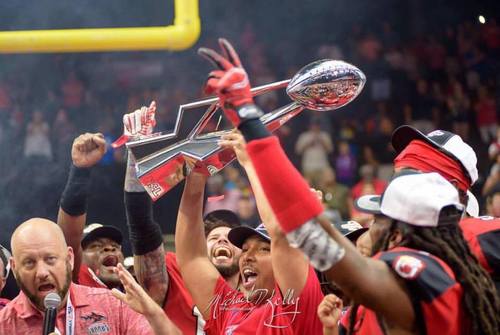 03/30/2019 10:52 AM
-
JACKSONVILLE – The Jacksonville Sharks announced today their coaching staff for the upcoming 2019 season. Head Coach Siaha Burley looks to make big moves not only on the Sharks roster for 2019 but on the Sharks coaching staff as well. Currently at 15-8 record as the head coach of the Jacksonville Sharks and looks to reclaim the NAL title in 2019. In order to do that he will need a supporting staff of arena league professionals to support his 2019 Sharks campaign.


Assistant Head Coach/Lineman Coach: Lee Johnson - Johnson is no rookie to coaching, as he's been coaching football for over 20 years in the Canadian Football League and arena leagues. Johnson was also a player for the Washington Redskins, BC Lions (CFL), Tampa Bay Storm, Shreveport Pirates, and the Charlotte Rage. As a coach, he started his career with the Winnipeg Blue Bombers from 1997 to 1998. In 2000, he was the defensive coordinator for the Carolina Cobras in the AFL. In the AFL, he helped out defenses all over, ranging from the Colorado Crush, Cleveland Gladiators, Orlando Predators, San Antonio Talons, and Portland Thunder.


Defensive Coordinator: James Fuller - Coach Fuller knows the game of arena football very well, and has actually been in the NAL before. Last season, Fuller was the Head Coach for the Maine Mammoths. They had a 1-7 start, knocking them out of the playoffs, but were arguably the most dangerous team after their 6-1 finish to the season. Fuller and the Mammoths defeated the Sharks, Cobras, Pirates, and Lions, who all made it to the playoffs, and of course, the Lehigh Valley Steelhawks. Not only is Fuller aware of how arena football works, he is also reuniting with Quarterback Jonathan Bane and Wide Receiver Devin Wilson, who played for the Mammoths last season.


Player of Personnel / Special Teams Coach: Charlie Hunt - Hunt started his Sharks career in 2011 and played all the way through the 2012 season and rejoined the Sharks in 2014. After a hiatus from the game, Hunt returned for the 2017 championship season and stuck with the team for the 2018 season as well. Over his time at playing Jack Linebacker, Hunt won two championships with Jacksonville and earned First Team All-NAL in 2017. In addition, he was named the NAL Defensive Player of the Year in 2017.




About the Jacksonville Sharks


The Jacksonville Sharks are members of the National Arena League (NAL). The 2017 NAL Champions and ArenaBowl XXIV Champions and play all home games at the Jacksonville Veterans Memorial Arena. Sharks Nation Memberships for the 2019 season are now available. Shark Nation Memberships start as low as $75. To become a Shark Nation member or for more information please call (904) 621-0700. Follow the Sharks on facebook at facebook.com/jaxsharks and on Twitter and Instagram @jaxsharks, as well as the Attack Dance Team at facebook.com/sharkattackdance and Chum at facebook.com/chumsharks.