News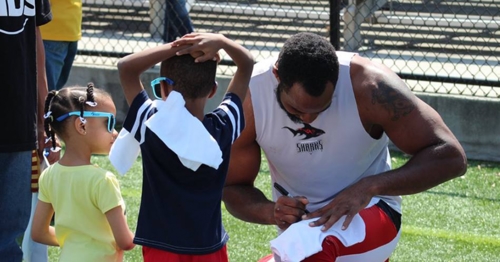 03/30/2019 3:01 PM
-
JACKSONVILLE - The Jacksonville Sharks will be reserving the last day of the 2019 Sharks Training Camp for Fan Day which will also feature the team's final training scrimmage before the season along with many fun events planned to take place on Sharks Fan Day. Jacksonville Sharks Fan Day is a public event for all Sharks fans young and old to come out to enjoy Sharks football by meeting the players, coaches, and Attack Dance Team. Fan Day is scheduled for Saturday, April 6th from 1:30pm to 3pm.
The Jacksonville Sharks are excited to announce that the event will take place at Edward White High School. In addition to the meet and great there will be live music provided by DJ Dark Knight, the official DJ of the Jacksonville Sharks, an autograph session, a merchadise stand, and a ticket stand for those who have yet to purchase their season tickets for 2019. To enjoy this first annual Sharks Fan Day event or to enjoy one of the many Sharks Season Ticket Special see full details below including the official fan day schedule.
2019 FAN DAY SCHEDULE
1:00pm Jacksonville Sharks on-field warm ups & team pratice.
1:20pm Jacksonville Sharks Final Training Camp Scrimmage.
1:30pm Jacksonville Sharks Fan Day Begins Introduction from DJ Dark Knight.
2:00pm Introduction of the 2019 Jacksonville Sharks Attack Dance Team
2:15pm Introduction of Head Coach Siaha Burley and his 2019 coaching staff.
2:20pm Introduction of Sharks Players
2:30pm Meet and Greet / Autograph Session Begins.
*Subject is subject to change.
The location of Fan Day will be at Edward White High School (1700 Old Middelburg Road N . Jacksonville, FL 32210) The event officially at 1:30pm but fans are welcome to enjoy the scrimmage & pratice prior to Fan Day. If you haven't bought your season tickets yet, it's not too late and the Sharks have many great Season Ticket specials including season tickets for as low as $75, Two Season Tickets for only $150 and perhaps the most well-known the "KIDS FREE SEASON TICKET" special. To find out more information about these specials or to get your season tickets now call 904-621-0700 or visit: www.jaxsharks.com/tickets/shark-nation-member/