News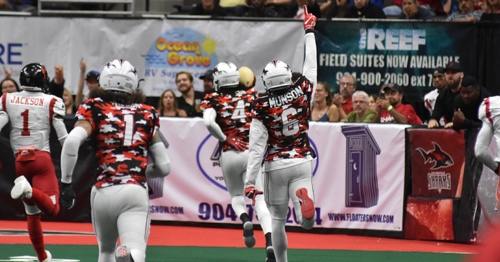 05/18/2019 9:09 PM
-
JACKSONVILLE – The Jacksonville Sharks (4-1) devastated their rival Orlando Predators on Military Appreciation Night, brought to you by Ocean Grove RV. The Sharks were introduced to their Red, White, and Black camouflage jerseys tonight and did not disappoint against the Orlando Predators (1-5), finishing on a high-scoring 61-7 beat down in front of a loud crowd on Saturday night in the Shark Tank.

Sharks quarterback, Jonathan Bane, played a lights-out until he went down right before the half. He was 12-of-19 for 142 yards and four touchdowns before leaving the game due to injury. Quarterback Mike Fafaul was thrown into the battle but held the Sharks together going 7-of-13 for 101 yards and one touchdown. Devin Wilson continues to lead the team totaling eight receptions for 111 yards and three touchdowns on the night. Fortson had another great game at home hauling in four receptions for 75 yards and one touchdown, along with a fumble recovery for 23 yards adding another touchdown.


Jacksonville can credit another win to their dominant Shark defense that showcased their best game this season holding the Predators to a record low seven points, completely shutting out Orlando in the second half. The defensive unit tallied six tackles for a loss, four sacks, two forced fumbles, two fumble recoveries, a one interception by defensive back Seth Ellis. Ellis also finished the night with four pass breakups. On the defensive line, Woodman led the team with 1,5 sacks, Bellazin was close behind with one and a trio of Sharks finished the night with 0.5 (Bowers, Brown, Jacobs).
Jacksonville's kicker Brandon Behr won special team's player of the game, recording 5-of-6 on PAT's and tying his personal record with three deuces. Orlando's return to the Jacksonville rivalry proved to be rough on all three sides of the ball and a 7,486 (crowd attendance) turnout of the Sharks fateful showed didn't make it any easier as Shark Nation gave a rude awakening to the recently revived Orlando Predators. Jacksonville will enter a bye week before hitting the road to face Orlando again Friday, May 31st at the Amway Center. The Sharks, now 4-1, are tied for first place in the NAL and are currently on a four-game win streak after this 61-7 victory their largest victory of the season in both points scored and win margin.


About the Jacksonville Sharks


The Jacksonville Sharks are members of the National Arena League (NAL). The 2017 NAL Champions and ArenaBowl XXIV Champions and play all home games at the Jacksonville Veterans Memorial Arena. Sharks Nation Memberships for the 2019 season are now available. Shark Nation Memberships start as low as $75. To become a Shark Nation member or for more information please call (904) 621-0700. Follow the Sharks on facebook at facebook.com/jaxsharks and on Twitter and Instagram @jaxsharks, as well as the Attack Dance Team at facebook.com/sharkattackdance and Chum at facebook.com/chumsharks.