News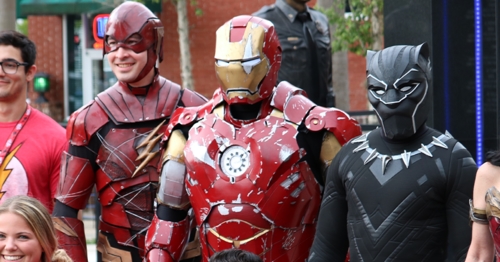 06/06/2019 2:16 PM
-
JACKSONVILLE – The Jacksonville Sharks face the Columbus Lions Saturday night at VyStar Veterans Memorial Arena at 7 p.m. This is the Sharks fourth home game of the season, and the team is on a five-game win streak after defeating their in-state rival, Orlando Predators for the second time this season. The Lions are currently 2-4 and are coming off a home game loss last week against the 5-2 Carolina Cobras. The last time the Sharks were up against the Lions was in mid-April, and the Sharks came out on top for our first win of the season. Saturday will be our chance to continue our dominance over the Columbus Lions. Saturday's game is the Sharks' Education Appreciation & Superhero Night presented by TaxSlayer Gator Bowl.

Whether you're a longtime Season Ticket Holder, or about to head to your first Sharks game, check out everything you need to know for Saturday's game.

Education Appreciation & Superhero Night
(Presented by TaxSlayer Gator Bowl)
Not all heroes wear capes! The Sharks will be recognizing those who work hard for our education system every day by hosting the team's annual Education Appreciation & Superhero Night presented by TaxSlayer Gator Bowl. Dress up as your favorite superhero, villain, or teacher for the chance to win a prize for best kids and adult costumes! Watch out for guest appearances from Wonder Woman, Shazaam, Captain Marvel, Spiderman, Gamora, and Batman.

BOGO Ticket Offer
All Teachers, Faculty and School Employees For Saturday's game all teachers, faculty, school employees and their families will receive a special buy one, get one free ticket offer. We take pride in having the best fans around and want to reward our local educators, faculty, and employees. So whether you are a teacher or know someone who is in the education system, let them know about this special day, Sharks Education Appreciation & Superhero Night presented by TaxSlayer Gator Bowl.

Family Four Packs This week we are giving our fans the chance to take part in the Family Four for Four Pack. The package includes 4 tickets, 4 hotdogs, 4 drinks and 4 bags of chips. Pricing varies by seating; Red Seats: $60, Green Seats: $80, Blue Seats: $100. Don't miss out on this great deal. This deal can only be purchased through The Sharks Ticket Office. Call 904-621-0700 now to order, or come by The Sharks Office, 1000 W. Bay Street.

Jacksonville Sharks Season Tickets
There are still plenty of games left! Enjoy the perks of being a Sharks season ticket holder. Call today or come by the Sharks information table at the game to get our prorated pricing list. Get your tickets today and start enjoying your Shark Nation Membership. You can also call Dave or Mike at 904-621-0700.

Jacksonville Sharks Single Game Tickets
Get a great deal for this week's game, tickets start at only $10... That's right only $10! Visit the Arena Box Office on game day or get your tickets now by calling 904-621-0700.

SharkFest
SharkFest is happening this Saturday and all game days to come! Starting at 5:00 p.m., join in on the fun for all ages, kids and adults. For Education Appreciation & Superhero Night presented by TaxSlayer Gator Bowl, we will have guest appearances from superheroes, a beer tent, and local vendors participating and providing free swag. Come join us for a fun time at SharkFest!

Doors Open
On Saturday, the doors open at 5:30 p.m. for season ticket holders, and 6 p.m. for the general public. The first 500 kids (12 and under) will receive a free Shark Horn. The game will kick off at 7 p.m.

Shark Horns Are Back! The Sharks are excited to welcome horns back to the Shark Tank! Shark Horns (2-foot max) will be allowed at the arena, so make some noise and purchase your own Sharks Horn at our merchandise stand located on the main concourse, by section 106. The first 500 Kids in attendance will receive a FREE Shark Horn on game day. Kids must be 12 years of age or under. The horn policy does not allow fans bring large buckets or aerosol air horns into the arena.

We Need More Cowbell!
The Sharks are proud to bring back a great tradition! Cowbells (8" in height 6" in width max) will be allowed at the arena, so bring the noise and have fun by purchasing a Sharks cowbell at our merchandise stand located on the main concourse. As stated, we will continue with the policy of fans NOT being able to bring large buckets or aerosol air horns into the arena.

TaxSlayer Gator Bowl Football in Jax Prize Pack Contest
Win two tickets to the FSU Kickoff Game, two tickets to Georgia Florida Game, and two tickets to the TaxSlayer Gator Bowl by entering The TaxSlayer Gator Bowl Football in Jax Prize Pack! To enter visit: https://bit.ly/2019footballinjax. The contest closes June 12 and the winner will be drawn on June 14.

Suite/Duval Street Entrance This entrance will be open for all Sharks season tickets holders starting at 5:30 p.m. After that, all ticket holders can enter through this entrance.

Shark Nation Membership Experiences Membership experiences have begun!
If you selected your experience for this weekend's game, you will be sent an email with instructions on where to go and how to enjoy this perk. If you have not selected your experience, contact 904-621-0700 so you don't miss out on some great behind the scenes action. Choices include a game day Chalk Talk with Coach Burley, the Player Intro Experience, the On-Field Experience, or the Sharks Locker Room Tour.

Season Ticket Holder Gifts
We will have an announcement coming soon on this year's Exclusive Season Ticket holder gift. We apologize for the delay.

Halftime
Enjoy a performance by the Jacksonville Sharks Attack Dance team along with a special performance from the Jr. Attack Dance campers. There will also be a performance by the talented ladies from Dansations.

Fling-A-Football How's your aim?
Our halftime Fling-A-Football promotion gives you a chance to win a game-worn jersey from years past or 150 in Shark Bucks. At just $1 per throw (or 6 for $5), you might as well give it a shot! Be sure to have your mini-footballs ready when halftime rolls around! Fling-A-Footballs are available for purchase inside the arena on the main concourse until the middle of the second quarter.

In Game Fun
Be on the lookout for the Narducci Dental Floss Cam, if you do the best floss dance you could win a prize worth $600! But the dance moves don't stop there, make sure to show your muscles off for the Boost Performance Flex Cam, and give us your biggest grin for the Smile Cam! During the 4th quarter, we will be having a section contest! The section that makes the most noise will have the opportunity to win a free t-shirt sponsored by Moe's Southwest Grill. A lucky fan will also win a gift card to Dicks Wings with our Turbo Toss, and we are also having our Field Goal Kick Challenge.

Jr. Attack Dance Camp
Jr. Attack Dance Camp kicks off Friday night, so register your child NOW, visit: www.jaxsharks.com/dancers/junior-attack-dance/ to sign up online. Jr. Attack Dance Camp will be this weekend, June 7-8 with a special halftime performance by the Jr. Attack! All campers will receive a free t-shirt for the camp and will be given lunch for the June 8 game.

Youth Football Camp
If you have a child between the ages of 6-16 make sure you sign them up for Sharks Youth Football Camp. Camp kicks off July 20. To sign up online visit: http://www.jaxsharks.com/community/youth-football-camp/ or visit the FIN-formation table in section 107 before or during the Sharks game. For questions about the camp email
[email protected]
.
Jacksonville Sharks Happy Hour
The Sharks Happy Hour is ready for you. Enjoy $2 Genesee Beer at section 108 and section 104 from 5:30 p.m to 7:00 p.m.

Arena Club/Reef and Cove Suites Buffet Menu Drink Specials: Sharknado $16 - Served in a Mason Jar with Swimming Shark Gummies.

Reef & Cove Menu: Nacho Bar - Chips, Chili, Cheese, Sour Cream, Salsa, Jalapenos, Refried Beans, Grilled Chicken, Mexican Rice, Tossed Salad with Champagne Vinaigrette and Ranch. Beverages will include beer, wine, bottled water, and assorted sodas.

Arena Club Buffet: BBQ Pulled Pork Sandwiches $14.00 - Mini Brioche Buns, Southern Cole Slaw, House Made Kettle Chips, Assorted BBQ Sauces.

About the JacksonvilleSharks

The Jacksonville Sharks are members of the National Arena League (NAL). The 2017 NAL Champions and ArenaBowl XXIV Champions and play all home games at the Vystar Jacksonville Veterans Memorial Arena. Shark Nation Memberships for the 2019 season are now available and start as low as $75 for the full season. To become a Shark Nation member or for more information please call (904) 621-0700. Follow the Sharks on Facebook at facebook.com/jaxsharks and on Twitter and Instagram @jaxsharks, as well as the Attack Dance Team at facebook.com/sharkattackdance and Chum at facebook.com/chumsharks.

About TaxSlayer Gator Bowl

The TaxSlayer Gator Bowl is Jacksonville's post-season college football bowl game! This year's game will feature a team from the Southeastern Conference versus a team from the Atlantic Coast Conference, Big Ten Conference, or Notre Dame. The 75th TaxSlayer Gator Bowl Game will be played on Thursday, January 2nd at 7:00 p.m. at TIAA Bank Field in Jacksonville, FL and will be nationally televised on ESPN. Tickets are now on-sale at www.taxslayergatorbowl.com. Help us celebrate 75 games! As we prepare to celebrate our 75th game, please share your memorable stories or experiences a thttps://www.taxslayergatorbowl.com/mystory/ or call at (904) 798-5993.