News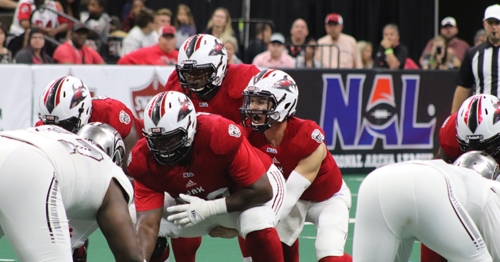 06/12/2019 11:57 AM
-
JACKSONVILLE – The #1 Jacksonville Sharks (6-1) enter Week 10 as the top-seed in the NAL for the fourth week in a row, close behind them is this week's opponent, the #2 Carolina Cobras (6-2). The 2018 NAL Champion Cobras are a game behind the 2017 NAL Champion Sharks. This battle of champs now sets the stage for the fight for first place as the winner will claim the number one seed in the NAL standings. If Jacksonville wins Saturday, they will have completed a seven-game win streak going into Week 11.


The last time the Sharks and Cobras met was in the Shark Tank last month. Jacksonville ultimately won that battle, 35-24, in a defensive showdown. This week could be very similar considering both teams have top-tier defenses in the league.


Sharks Quarterback Jonathan Bane and Cobras Quarterback Charles McCullum are two of the best in the NAL. Bane has thrown for 1,538 yards, 32 touchdowns, and only five interceptions. When it comes to the receivers, the Sharks evenly spread the ball out more than the Cobras. The top three Sharks receivers combined for 112 receptions Devin Wilson (57), Jarmon Fortson (29) and Durron Neal (26).


Saturday's game will showcase the two best defensive backs in the league; Jacksonville's Seth Ellis, currently leads the league in the lowest passer rating allowed (28.65) and has eight interceptions this season gaining at least one per game so far. Carolina's Michael Green is close behind in interceptions (6). Needless to say, this game is going to be a great matchup. Don't be surprised to see a low-scoring brawl in the Snake Pit.


"The Fight for First Place" is this Saturday at 7 p.m. in the Greensboro Coliseum in Greensboro, NC. The game will be streamed live on the National Arena League YouTube channel. A link to the stream will be posted on the Sharks social media pages. Shark Fans looking to enjoy the game can join our Sharks Viewing Party at Dicks Wings in Mandarin 10550 Old St. Augustine Rd. The event starts at 6 p.m., and Dicks Wings Mandarin will host a $10 beer pitcher special for all Shark Fans that attend.


About the Jacksonville Sharks

The Jacksonville Sharks are members of the National Arena League (NAL). The 2017 NAL Champions and ArenaBowl XXIV Champions and play all home games at the Jacksonville Veterans Memorial Arena. Sharks Nation Memberships for the 2019 season are now available. Shark Nation Memberships start as low as $75. To become a Shark Nation member or for more information please call (904) 621-0700. Follow the Sharks on Facebook at facebook.com/jaxsharks and on Twitter and Instagram @jaxsharks, as well as the Attack Dance Team at facebook.com/sharkattackdance and Chum at facebook.com/chumsharks.