News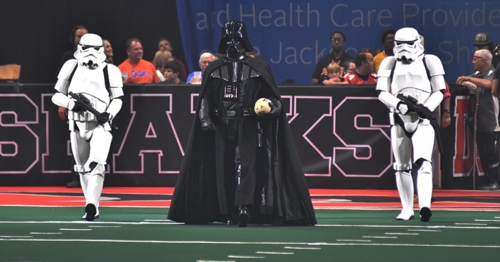 06/21/2019 2:54 PM
-
JACKSONVILLE – The Jacksonville Sharks rematch against the New York Streets is Saturday, June 22, at 7 p.m. in the Jacksonville Veterans Memorial Arena. The Sharks are seeking revenge as they face the only team that has handed them a loss this season. After losing to the Streets, the Sharks are on a seven-game win streak and are the #1 team in the NAL! Saturday's game is the Sharks' Star Wars Night presented by Clay Eye. So whether you're a longtime Season Ticket Holder, or about to head to your first Sharks game, check out everything you need to know for Saturday's game.


StarWars Night (Presented by Clay Eye)
Meet your favorite Star Wars characters in real life at the arena this Saturday! Dress up as a Sith or a Jedi but make sure you JOIN THE SHARKS SIDE! Watch out for those clone troopers and be afraid if you find Lord Vader!


FREE Jedi Lightsabers
The First 1,000 Kids in attendance will receive FREE Jedi Lightsabers at Star Wars Night! Kids must be 12 & under to enjoy a free lightsaber.


Lucas Film Ltd. Star Wars Jerseys
Thanks to our friends at Lucasfilm, the Jacksonville Sharks will wear custom made Star Wars jerseys for Saturday's game against the EMPIRE state.


Post Game Autograph Session & Game Worn Jersey Auction
Don't forget to join us on the field after the game for our Sharks autograph session. Meet our players and dancers for autographs and photos! The Sharks will also be auctioning off their game-worn Star Wars Jerseys after the game. Bid for your favorite player's jersey after the game! The live jersey auction will take place on the field immediately after the autograph session. Proceeds will benefit the Veteran Tickets Foundation!


Scouts Weekend
The Sharks want to welcome all Youth Scout groups to the Jacksonville Sharks game again this weekend. Our Scout Night ticket package features one lower bowl end zone ticket, a FREE hot dog meal, a FREE Sharks hat, a special edition scout patch, a jumbotron welcome, and an overnight camp out including a movie and popcorn on the Sharks Field! We look forward to another great Scouts Weekend with the Jacksonville Sharks! Call 904-621-0700 for more details.


Feed the Force with a Family Four Pack!
This week we are giving our fans the chance to take part in the Family Four for Four Pack offer. Get 4 tickets, 4 hotdogs, 4 drinks and 4 bags of chips. Call the Sharks ticket office for pricing 904-621-0700 or visit the arena box office.


Jacksonville Sharks Season Tickets Holder Gifts
There are still plenty of games left! Enjoy the perks of being a Sharks season ticket holder. Call today or come by the Sharks information table at the game to get our prorated pricing list. Get your tickets today and start enjoying your Shark Nation Membership. You can also call our ticket guys Dave or Mike at 904-621-0700.


Jacksonville Sharks Single Game Tickets
Get a great deal for this week's game, tickets start at only $10… That's right only $10! Visit the Arena Box Office on game day or get your tickets now by calling 904-621-0700.


SharkFest
SharkFest is happening this Saturday and all game days to come! Starting at 5:00 p.m. join in on fun for all ages, kids and adults, for StarWars Night presented by Clay Eye. We will have guest appearances from StarWars Characters, as well as local vendors participating and providing free swag. Come join us for a fun time at SharkFest! There will be a climbing wall provided by Boys Scouts of America, inflatables for the kids, & fun interactive games provided by our awesome Gameday Operations crew!




Doors Open
On Saturday, the doors open at 5:30 p.m. for season ticket holders, and 6 p.m. for the general public. The game will kick off at 7 p.m.


We Need More Cowbell!
The Sharks are proud to bring back a great tradition! Cowbells (8" in height 6" in width max) will be allowed at the arena, so bring the noise and have fun by purchasing a Sharks cowbell at our merchandise stand located on the main concourse. As stated, we will continue with the policy of fans NOT being able to bring large buckets or aerosol air horns into the arena.


No Sharks Horns Saturday
We hope you enjoyed your Sharks horns last game. Unfortunately Sharks horns (2ft. in length) will not be allowed back this game. Please do not bring your Shark horns to the arena for Saturday's game.


Suite/Duval Street Entrance
This entrance will be open for all Sharks season tickets holders starting at 5:30 p.m. After that, all ticket holders can enter through this entrance.


Shark Nation Membership Experiences
Membership experiences have begun! If you selected your experience for this weekend's game, you will be sent an email with instructions on where to go and how to enjoy this perk. If you have not selected your experience, contact 904-621-0700 so you don't miss out on some great behind the scenes action. Choices include a game day Chalk Talk with Coach Burley, the Player Intro Experience, Bus Trip to Orlando (July 5), the On-Field Experience, or the Sharks Locker Room Tour.


Season Ticket Holder Gifts
Exclusive Season Ticket Holder gifts have been ordered and should be arriving soon! We expect to have our season ticket holder gifts to be ready for pick up at our next Sharks home game on July 20th.


Halftime
Enjoy a performance by the Jacksonville Sharks Attack Dance team along with a special performance from Pine Forest Dance Academy.


Fling-A-Football
How's your aim? Our halftime Fling-A-Football promotion gives you a chance to win a game-worn jersey from years past or 150 in Shark Bucks. At just $1 per throw (or 6 for $5), you might as well give it a shot! Be sure to have your mini-footballs ready when halftime rolls around! Fling-A-Footballs are available for purchase inside the arena on the main concourse until the middle of the second quarter.


In Game Fun
Be on the lookout for the Narducci Dental Floss Cam, if you do the best floss dance you could win a prize worth $600! But the dance moves don't stop there, make sure to show your muscles off for the Boost Performance Flex Cam, and give us your biggest grin for the Smile Cam! During the 4th quarter, we will be having a section contest! The section that makes the most noise will have the opportunity to win a free t-shirt sponsored by Moe's Southwest Grill. A lucky fan will also win a gift card to Dicks Wings with our Turbo Toss, and we are also having our Field Goal Kick Challenge and new edition Moe's Burrito Eating Contest!


Youth Football Camp
If you have a child between the ages of 6-16 make sure you sign them up for Sharks Youth Football Camp. Camp kicks off July 20. To sign up online visit: http://www.jaxsharks.com/community/youth-football-camp/ or visit the FIN-formation table in section 107 before or during the Sharks game. For questions about the camp email [email protected] .


Jacksonville Sharks Happy Hour
The Sharks Happy Hour is ready for you. Enjoy $2 Genesee Beer at section 108 and section 104 from 5:30 p.m to 7:00 p.m. Natturdays are $5 all day.


Arena Club/Reef and Cove Suites Buffet Menu
Drink Specials:
Sharknado $16 - Served in Mason Jar with Swimming Shark Gummies @ bar locations. $6 - 16 oz. Dos Equis, Fat Tires and Modelo Beers sold in Section 104


Reef & Cove Menu:
Black Jack Chicken, Grilled Sausages with Onions & Peppers, Mini Hoagie Rolls Coleslaw, Baked Beans, Mac & Cheese, Beer, Wine Bottled Water & assorted Sodas


Arena Club Buffet:
Sausage Sandwich $14.00 - Beer Braised Bratwurst or Smoked Andouille, Fresh Hoagie Roll, Onions, and Peppers, House Made Kettle Chips


About the Jacksonville Sharks
The Jacksonville Sharks are members of the National Arena League (NAL). The 2017 NAL Champions and ArenaBowl XXIV Champions and play all home games at the Vystar Jacksonville Veterans Memorial Arena. Shark Nation Memberships for the 2019 season are now available and start as low as $75 for the full season. To become a Shark Nation member or for more information please call (904) 621-0700. Follow the Sharks on Facebook at facebook.com/jaxsharks and on Twitter and Instagram @jaxsharks, as well as the Attack Dance Team at facebook.com/sharkattackdance and Chum at facebook.com/chumsharks.


About Clay Eye
Clay Eye Physicians & Surgeons was established in 1977 and is now an eleven physician group. Clay Eye offers comprehensive eye care in the following specialties: Glaucoma Surgery, Diabetic Eye Disease, and Macular Degeneration, Laser Cataract Surgery, Laser floater lysis, Cornea Surgery, Medical Retina, LASIK Surgery, Cosmetic Eye Procedures, Pediatric Ophthalmology, and Pediatric Eye Exams. In addition, they offer Routine Eye Exams, Contact Lenses, and Boutique Eyewear for the entire family.

They currently have offices in Orange Park, Fleming Island, Mandarin and Riverside. If you would like more information about Clay Eye, please contact (904) 272-2020, or visit their website at www.clayeye.com .