News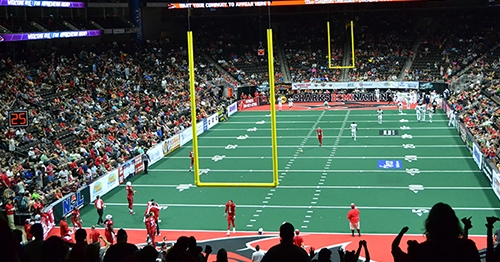 08/05/2019 2:43 PM
-
JACKSONVILLE – The #1 ranked Jacksonville Sharks have finished the regular-season with a 13 game win streak and look to extend it in the postseason as they face the Columbus Lions in a NAL playoff game tomorrow, August 6, at 7 p.m. in the Jacksonville Veterans Memorial Arena. Whether you're a longtime Season Ticket Holder, or about to head to your first Sharks game, check out everything you need to know for Tuesday's game. If the Sharks win tomorrow they will advance and host the 2019 NAL Championship.


Playoff RED OUT Presented By Moe's Southwest Grill

It's a Playoff RED OUT, so fill the Shark Tank and wear RED to support your Sharks! Need new Sharks Gear? Visit our Team Merchandise Stand on the main concourse behind section 106.


Taco Tuesday with Moe's Southwest Grill

It's Taco Tuesday! Thanks to our friends at Moe's Southwest Grille the first 1,000 adults at the Sharks game will receive $5 in Moe bucks! Mark your calendars for September 10th for FREE Queso Day at Moe's Southwest Grill at St. Johns Town Center. Get a free cup of Moe's Queso September 10th, no purchase necessary.


First 750 Kids get FREE Fin Hats

FINS UP SHARK NATION! It's playoff football time and we got a great deal for your little Sharks! The first 750 kids in attendance will receive FREE Shark Fin Hats! This offer is only for kids ages 12 and under.


2020 Season Tickets are now on sale!

We know 2019 isn't over but it's never too early to prepare for next year! Whether you are purchasing new tickets or renewing your seats it's a great time to be a part of Shark nation. Ask about or no charge payment plans, or about our early bird benefits. Call now to sign up or renew for 2020 season tickets call: 904-621-0700.


Mobile Game Program

Shark Fans check out the NEW Jacksonville Sharks Bites Mobile Game Program available on all phones, tablets, and computers. To see the Sharks Mobile game program on game day visit: jaxsharks.com and click on the game program icon on the right corner or visit www.jaxsharks.com/fan-zone/shark-bites/ to see tonight full program and past game programs from this season. The Sharks will also post a click here link on social media on game day for fans to access the program. Check out a must-read on game day with the Jacksonville Sharks Bites Mobile Game program.


Family Four Pack!

This week the Sharks are rewarding you with the best Family Four Pack offer available. Get 4 tickets, 4 hotdogs, 4 cokes and 4 bags of chips for $64. Call the Sharks ticket office for this deal 904-621-0700 or visit the arena box office. Looking to upgrade your seats? Family Four Pack specials include multiple seating options, $84 for green sections and $104 for blue sections


Playoff Tickets for $10

What a great deal for the big game. Get playoff tickets for as low as $10! Call 904-621-0700 to receive this offer.


Group Tickets or Suite Availability

For an unforgettable group experience, discounted group tickets of 10 or more, suite information, birthday parties, fundraising or just spending a great evening at a corporate event or with family and friends call David at 904-900-2060 ext 702 or email [email protected]



Chum's Birthday Party

Celebrate Chum's Birthday tomorrow at the Shark Game! Chum's special day includes a list of his best friends that will be in attendance. Including top local mascots from our area like Finn, Jaxson de Ville, Fang, Southpaw, Scampi, Mr. Bigz, and many more entertainers!


Chum and Finn Autograph Session

At the beginning of the second quarter, come meet and take photos with Chum and Finn during their autograph session located at section 100 by the iHeartRadio Lounge.


SharkFest

SharkFest is happening tomorrow starting at 5:00 pm join in on the fun for all ages, kids and adults. Come join us for a fun time at SharkFest! There will be interactive games provided by our awesome game day operations crew!


Doors Open

On Tuesday, the doors open at 5:30 p.m. for season ticket holders, and 6 p.m. for the general public. The game will kick off at 7 p.m.


We Need More Cowbell!
The Sharks are proud to bring back a great tradition! Cowbells (8" in height 6" in width max) will be allowed at the arena, so bring the noise and have fun by purchasing a Sharks cowbell at our merchandise stand located on the main concourse. As stated, we will continue with the policy of fans NOT being able to bring large buckets or aerosol air horns into the arena.


NO Refillable Cups
Fans, Jacksonville Sharks refillable cups from past seasons are not valid for this season. The Veterans Memorial Arena will not accept past seasons refillable cups for this season. Any fans that bring in refillable cups will be asked to return them to their vehicle or you may dispose of them on location. In addition, the Sharks Season Ticket gift mug can not be used as a refillable drink at the arena.


NO Sharks Horns
Unfortunately, Sharks horns will not be allowed back for this game. Please do not bring your Shark horns to the arena for Tuesday's game.


Suite/Duval Street Entrance
This entrance will be open for all Sharks season tickets holders starting at 5:30 p.m. After that, all ticket holders can enter through this entrance.


Halftime
Enjoy a special performance by our own Attack Dance Team. We will also have a mascots vs. youth football!


Fling-A-Football
How's your aim? Our halftime Fling-A-Football promotion gives you a chance to win a game-worn jersey from years past or 150 in Shark Bucks. At just $1 per throw (or 6 for $5), you might as well give it a shot! Be sure to have your mini-footballs ready! Fling-A-Footballs are available for purchase inside the arena on the main concourse until the middle of the third quarter.


In-Game Fun
Be on the lookout for the Narducci Dental Floss Cam, if you do the best floss dance you could win a prize worth $600! But the dance moves don't stop there, make sure to show your muscles off for the Boost Performance Flex Cam, and give us your biggest grin for the Smile Cam! During the 4th quarter, we will be having a section contest! The section that makes the most noise will have the opportunity to win a free t-shirt sponsored by Moe's Southwest Grill. A lucky fan will also win a gift card to Dicks Wings with our Turbo Toss, and we are also having our Field Goal Kick Challenge and new edition Moe's Burrito Eating Contest!


2019 NAL Championship
If the Jacksonville Sharks defeat the Columbus Lions this week they will advance to the 2019 NAL Championship and will host the game right here in Jacksonville on Saturday, August 17th at 7pm.


Post Game Autograph Session
Meet the Shark Players and Dance Team on the field after the game! Take pictures and get autographs with your favorite Sharks immediately after the Sharks game.


Drink Specials

Enjoy $2 Genesee and $5 Natturdays at section 108 and section 104 all night long!



Arena Club / Reef and Cove Suites Buffet Menu

Drink Specials:

Sharknado $16 - Served in Mason Jar with Swimming Shark Gummies..



Reef & Cove Menu:

Black Jack Chicken, Pulled Pork with Smokey BBQ Sauce, Texas Toast, Coleslaw, Baked Beans, Kettle Chips, and French Onion Dip. For beverages, assorted sodas, water, beer and wine will be available.



Arena Club Buffet:

Beer Braised Sausage Sandwich with peppers & onions served on a freshly baked hoagie roll with house made kettle chips.


About the Jacksonville Sharks

The Jacksonville Sharks are members of the National Arena League (NAL). The 2017 NAL Champions and ArenaBowl XXIV Champions and play all home games at the Vystar Jacksonville Veterans Memorial Arena. 2020 is right around the corner, renew your Season Tickets now for 2020 call: 904-621-0700. First time season ticket holder? Order your season tickets now and get free tickets to this seasons playoff game! Follow the Sharks on Facebook at facebook.com/jaxsharks and on Twitter and Instagram @jaxsharks, as well as the Attack Dance Team at facebook.com/sharkattackdance and Chum at facebook.com/chumsharks.



About Moe's Southwest Grill

Fast casual Tex-Mex Restaurants with multiple locations across the United States and several international locations. Moe's friendly fun atmosphere mixes with it's great variety of food including Tacos, Burritos, Quesadillas, Nachos, and Burrito Bowls! To find the nearest location by you visit moes.com and enjoy the classic homewrecker burrito!