News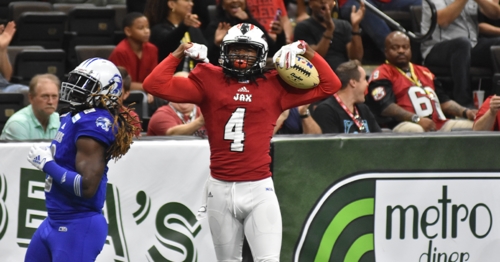 08/06/2019 8:48 PM
-
JACKSONVILLE – The Jacksonville Sharks (14-1) defeated the Columbus Lions (6-9) in a 67-43 in a postseason battle. Tonight's victory extends the Sharks winning streak to 14 and allows Jacksonville to host it's second NAL Championship.

Quarterback, Mike Fafaul, went down in the first half forcing Quarterback, Jonathan Bane, to retake the helm for the Sharks. Bane finished a perfect game going 12-of-12 for 126 yards and three touchdowns. Wide Receiver, Jarmon Fortson, finished the night against his former team as the leading receiver for the Sharks. Fortson reeled in seven receptions for 90 yards and one touchdown. Devin Wilson continues his touchdown streak, improving it to 18 in a row. He finished the night with six receptions for 72 yards and two touchdowns. Durron Neal, another former Lion, made three catches for 30 yards and one touchdown.

On defense, Defensive Back, Markus Smith, came away with two interceptions for 60 yards and one touchdown. Cody Saul also had a late-fourth quarter interception that secured the deal for Jacksonville. The final blow of the game came from a Tony Goodman game-ending interception in the endzone. On special teams kicker, Brandon Behr was nine for nine with two deuces. This victory marks a complete sweep on the Columbus Lions this season as the Sharks advance to face the Carolina Cobras (10-5) in the National Arena League Championship.

The 2019 NAL Championship is set for August 17 at 7 p.m. in Jacksonville at the Vystar Veterans Memorial Arena. For tickets to the game, please call (904) 621-0700 or visit www.ticketmaster.com

About the Jacksonville Sharks
The Jacksonville Sharks are members of the National Arena League (NAL). The 2017 NAL Champions and ArenaBowl XXIV Champions and play all home games at the Jacksonville Veterans Memorial Arena. Sharks Nation Memberships for the 2019 season are now available. Shark Nation Memberships start as low as $75. To become a Shark Nation member or for more information please call (904) 621-0700. Follow the Sharks on Facebook at facebook.com/jaxsharks and on Twitter and Instagram @jaxsharks, as well as the Attack Dance Team at facebook.com/sharkattackdance and Chum at facebook.com/chumsharks.