News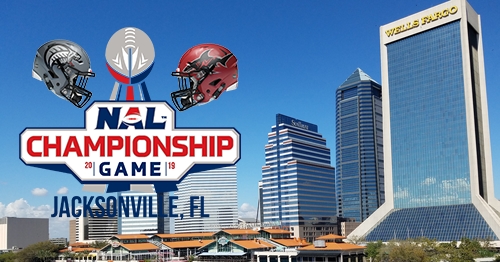 08/15/2019 3:48 PM
-
ATLANTA – Following the conclusion of the All-NAL First & Second Team Players Announcements the National Arena League is proud to present it's 2019 Championship Weekend schedule that will take place in Jacksonville, FL this Friday, August 16 thru Saturday, August 17. Kicking off the 2019 Championship Weekend will be Media day. It will be held at the Lexington Hotel & Conference Center Jacksonville Riverwalk in downtown Jacksonville. Media Day will be open to the public and is located inside the main ballroom. It begins at noon. League, local, and traveling media is invited to attend this event, for specific requests regarding Media Day please contact [email protected] . For non-hotel guests, please be aware there is a $15 hotel parking charge. Media Day will unveil the 2019 National Arena League championship trophy. Following the trophy reveal media day will begin by featuring both championship bound coaches and several players from both the #1 Jacksonville Sharks and #2 Carolina Cobras. There will be a on-stage Q&A for the featured coaches and players. Following the on-stage Q&A the league will allow a media breakout off stage to allow all media to access all Jacksonville & Carolina players and coaches. Media Day is expected to conclude by 1:30pm.


Following Media Day the league will host the 2019 National Arena League Award Ceremony which will also take place at the Lexington Hotel & Conference Center. The league award banquet is an invite only event, all invited guests are expected to dress in business attire. The award ceremony will take place in the main ballroom of the Lexington Hotel & Conference Center. Doors will open at 5:30pm and the award presentation is expected to begin at 6pm. During the league award ceremony many franchise & individual awards will be announced for 2019 season. In addition to the awards, there will be a banquet dinner. Following the conclusion of the awards and dinner Commissioner Chris Siegfried will make an announcement before concluding the event at 8pm.


Saturday the 2019 National Arena League Championship presented by Tom Bush Family of Dealerships and James J. McCall Comprehensive & Cosmetic Dentistry will take place between the hosting Jacksonville Sharks (14-1) and the defending champion Carolina Cobras (10-5). Kickoff is scheduled for 7pm at the Veterans Memorial Arena. For tickets to the National Arena League Championship call: 904-621-0700 or visit: ticketmaster.com. If you are planning to travel to Jacksonville for this Championship Weekend the Lexington Hotel & Conference Center is offering a special rate for the National Arena League fans. Call 904-396-5100 to receive a special rate and enjoy an action packed championship weekend.


ABOUT NATIONAL ARENA LEAGUE
The National Arena League was founded in 2016 and hosted its inaugural season in 2017 as the premier league in arena football. For more information regarding expansion opportunities or partnerships, contact Commissioner Chris Siegfried at [email protected] . For more information about the NAL visit www.nationalarenaleague.com, facebook.com/nationalarenaleauge, twitter.com/NALfootball, Instagram.com/nationalarenaleague.