News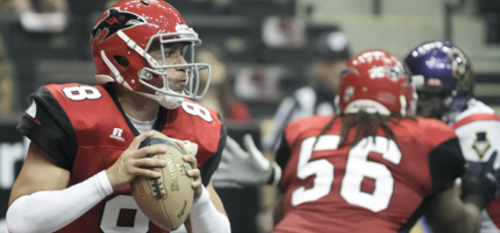 03/29/2011 1:01 PM
-
The Jacksonville Sharks announce Aaron Garcia, the Arena Football League's most prolific passer, has added yet another award to his resume after being named the AFL Offensive Player of the Week for his week three performance against the visiting New Orleans Voodoo.
Garcia (6'1, 195, Sacramento State) completed 17 of 19 passes for 308 yards and 8 touchdowns and 0 interceptions against the Voodoo. Garcia also passed the 26 mile mark for passing yards in his career, truly making him the league's marathon man. Garcia ranks second in the AFL this season in pass efficiency through week three with a rating of 124.2 while also leading the league with a completion percentage of 72.3. Garcia's 8 passing touchdowns also tie the Sharks' individual game touchdown mark that he set last season at home against Dallas.
This award marks the second consecutive week that the AFL has recognized a Shark's player for his outstanding performance, defensive back Micheaux Robinson was named Defensive Player of the Week for the AFL in week 2.