News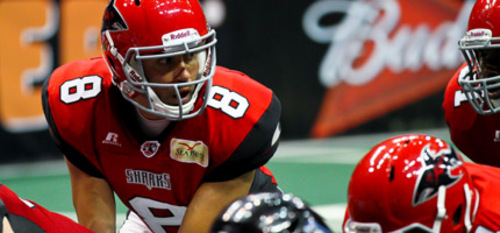 05/17/2011 7:36 AM
-
The Jacksonville Sharks (8-1) travel Georgia to face the Georgia Force (5-4) on Saturday May 21, 2011 with kickoff at 7:30 pm EDT. The game can be seen on AFL Live, the Arena Football League's web-streaming service which includes 1010XL's radio feed with Terry Norvelle on the call.
The Sharks defeated the Force 71-57 earlier this season in Jacksonville on Sea Best Field on March 18, 2011. The Sharks set a record for most points scored in a game - a record that has been bested twice more this season by the Sharks. The 57 points scored by the Force is still the most allowed by the Sharks this season. The Sharks are breaking records seemingly every week this season, but a win against the Force is the record of most importance. A Sharks victory will give them nine consecutive victories, five consecutive division wins, as the team continues to set the pace in the South Division.
The Sharks currently undefeated (4-0) in the South Division and have a two-game lead over the Orlando Predators as well as a three-game lead over the Force at the half-way point. Can the Sharks continue their hot streak in the second half of 2011?
The game will be broadcast live on 1010XL with Terry Norvelle giving the play-by-play. The game will be broadcast on AFL Live, the Arena Football League's online streaming channel. The AFL Live broadcast will feature an encore presentation of this week's Sharks Football Weekly, regularly aired on Friday nights from 7:30-8:00pm on WCWJ, CW17.