News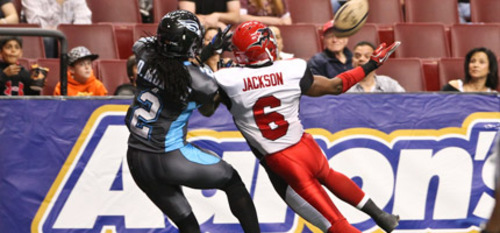 05/19/2011 7:04 AM
-
On Saturday, May 21, 2011, the Jacksonville Sharks will take on the Georgia Force in a South Division match-up just outside Atlanta, Georgia. This is the second game of the 2011 season between the two teams. The first contest, which was held on Sea Best Field in Jacksonville during Week 2, was won by Jacksonville 71-57. The Sharks broke their franchise record for points scored in a single game, a record that would be broken twice more since. The first game saw the emergence of Sharks receiver Jeron Harvey as he totaled 70 yards and four touchdowns. This also marked the beginning of the Sharks current winning streak, currently at eight games. Saturday's game in Georgia will be heard live on 1010xl, with play by play done by Terry Norvelle and Joshua Jackson giving the analysis. The game will also stream live on the internet through AFL Live.
This match-up will be a test for Georgia after hitting a two-game losing skid that dropped them in division rankings. The Sharks now lead in many of the statistical categories including total offense, scoring defense, turnover margin, passing efficiency, sacks for, sacks against, and red zone defense. Aaron Garcia will look to continue his passing assault with his explosive targets, Jeron Harvey (21 touchdown receptions) and Jomo Wilson (23 touchdown receptions), while Kirby Griffin will attempt to bulldoze through the Georgia rushing defense that ranks last in the league, allowing 46.8 rushing yards per game. The Jacksonville defense is coming off their most complete game of the season after registering six interceptions, five sacks and a safety. The Jacksonville defense currently ranks first in the league in points allowed per game, allowing 42.3, while Georgia ranks tenth in the league, giving up an average of 52.1 points per game.
Georgia will look to upset the 8-1 Sharks with a destructive offense of their own, which scores an average of 56 points per game. Maurice Purify will lead the receiving attack for the Force. Purify leads the league in touchdown receptions as a rookie (27), and has caught 13 touchdown passes in the last three games. In the last game, Purify caught 14 passes for 166 yards and 4 touchdowns. Former Jacksonville Sharks defensive lineman, Jeff Littlejohn, will be playing against his former team for the second time this season. Littlejohn currently has 10 tackles, 3 sacks and 1 fumble recovery in the 2011 season with the Force. Although the odds would appear to be in Jacksonville's favor, Georgia will seek to make some noise in the South division by taking out the top team in the AFL.
WHAT TO WATCH FOR:
- Will Jacksonville Sharks Kick Returner, Jeff Hughley open up on the Georgia special teams, after progressively bringing his average yards per return up to 28.3 yards in last weeks game against Iowa?
- Will the Jacksonville defense, which pulled in six interceptions last game, be able to contain the stealthy Georgia Receiver Maurice Purify, the league leader in touchdown receptions?
- How will Georgia's rushing defense, that allows an average of 46.8 yards per game, find an answer for Jacksonville Fullback Kirby Griffin, who has at least one rushing touchdown in the last seven games, and who has been averaging 20.3 yards per game?
- Can the Sharks special teams contain Georgia Kick Returner C.J. Johnson, who has 908 yards and 4 return touchdowns on the season? The Sharks gave up a combined 351 yards against Orlando and Philadelphia.