News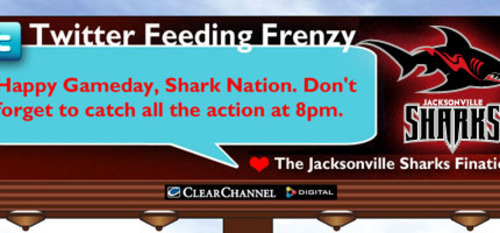 06/04/2011 5:24 PM
-
Jacksonville, Fla - For the first time ever, a franchise is allowing its fans to relay messages to one of its rivals to be seen publicly in the opposing city. The Sharks have purchased five digital billboards and will display messages tweeted to the Orlando Predators by Sharks' fans beginning Monday morning, June 6, 2011 and run through Friday, June 10, 2011. Fans can do this by tweeting messages to @ORLPredators and include the hashtag #JaxSharks (@orlpredators #jaxsharks).
"After the Predators called Jacksonville rednecks on the billboards back in April, we knew we had to come up with some creative way to return the favor when we traveled to Orlando," said Jeff Bouchy, Jacksonville Sharks' Managing Partner. "Rather than simply give Orlando a message about our views of their city and team, we decided to allow Shark Nation a chance to speak their minds."
In late April, prior to the Orlando Predators playing against the Sharks in Jacksonville on Sea Best Field, Orlando Predators' managing partner Brett Bouchy (younger brother to Jeff Bouchy) purchased billboards with a message to the entire city of Jacksonville. "Jacksonville Sucks. See You Rednecks April 30. Love the Orlando Predators." The Predators stirred up an entire community, but were crushed 76-55 at the hands of the Sharks in front of a nationally televised audience on the NFL Network.
"The innovational use of these billboards is more than just a way for our fans to retaliate," stated Bouchy. "This corresponds with the Sharks' desire to be the most fan interactive organization in the world. We encourage fans to be clever and creative and I am sure they have a lot of fun poking fun at the Preds and Mousetown," added Bouchy.