News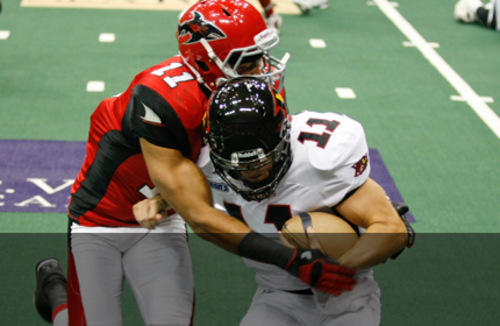 06/07/2011 12:59 PM
-
The Jacksonville Sharks (10-1) travel to take on division rival Orlando Predators (8-3) on Saturday June 11, 2011 at 7:30 PM at the Amway Center. The Sharks defeated the Predators in their first meeting in Jacksonville on April 30 76-55, and look to improve to 7-0 in the South Division with a win Saturday. A win Saturday against Orlando would also give the Sharks an 11 game win streak, a number that only two teams have accomplished in AFL History. Last season the Sharks put an end to the Spokane Shock's 11 game win streak in a 64-49 victory at Sea Best Field.
The Sharks and Predators all-time series currently stands at 2-2 which includes the Sharks 2010 playoff loss at home to the Predators. The Sharks look to gain their first win at Orlando after losing to the Predators 48-70 in a regular season game in 2010.
The Sharks and Predators rivalry has been heating up after the Predators purchased nine billboards in the Jacksonville area before their match-up in April which read "Jacksonville sucks, see you rednecks in Jacksonville April 30, love the Orlando Predators.
The Sharks organization did not think highly of the message and are allowing its fans to retaliate. For the first time ever a team is allowing its fans to relay messages to one of its rivals to be seen publically in the opposing city. The Sharks purchased five digital billboards and will display messages tweeted to the Orlando Predators by Sharks fans from June 6 – Friday June 11, 2011. Fans can do this by tweeting messages to @ORLPredators and include the hashtag #jaxsharks (@orlpredators #jaxsharks).
The game will be broadcast live on 1010 XL with Terry Norvelle giving the play-by-play and Joshua Jackson providing the color commentary.