News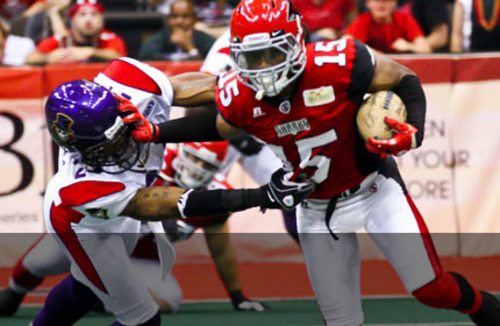 06/14/2011 11:46 AM
-
The Jacksonville Sharks (11-1) return to Sea Best Field for the first time in over a month as they take on the Milwaukee Mustangs (4-8), Saturday June 18, with kickoff set for 7:00pm.
The Sharks return home after winning their closest game of the season, a 68-67 victory at Orlando. The win moved the Sharks win streak to 11 games which is good for the second best streak in AFL history during a single season; San Jose owns the record of 12 set in 2002. With the win the Sharks improved to 7-0 in the South Division in 2011 as the Sharks continue to separate themselves as the leader of the South Division and American Conference. With a win against Milwaukee the Sharks will clinch a berth in the playoffs.
Although the Sharks are currently 5-0 on Sea Best Field in 2011 and Milwaukee is 1-4 on the road thus far, the Mustangs are coming off of an impressive 54-34 victory over the Kansas City Command. In the victory, Mustangs QB R.J. Archer passed for five touchdowns with no interceptions while hooking up with wideout Dwayne Eley Jr. for four touchdowns in the game. The Mustangs also had a standout performance from defensive back Antonio Malone as he intercepted two passes including one on the final play for a 51 yard return touchdown.
Sharks fans are encouraged to dress up in your favorite costumes as the Sharks are also hosting the second annual Halloween Night. The Shark Attack Dance Team as well as Sharks staff will be passing out candy throughout the game.
The game will kickoff at 7:05 PM EDT and will be aired live on WCWJ, CW17, hosted by T.J. Streit and Jerry Odom. It will also be broadcast live on 1010XL and will be streamed online through niftytv.com with Terry Norvelle on the call.