News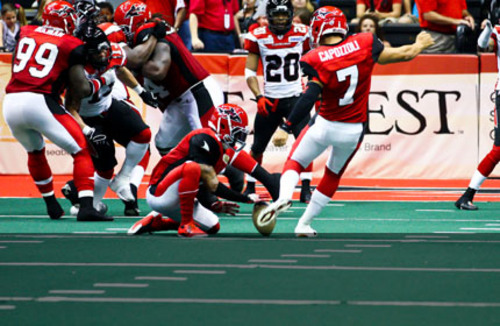 07/19/2011 7:00 AM
-
Jacksonville Sharks kicker Marco Capozzoli plays for more than just the win, he plays for Chevan. Chevan has captured the heart of Marco and has become an inspiration for the entire Sharks organization, spurring Capozzoli to found Kick for Kids.
Chevan, a three year old from England, was diagnosed with a tumor behind his eye on Christmas Eve of 2010. Shortly after, he arrived in Jacksonville to receive treatment at the University of Florida Proton Therapy Institute located at Shands of Jacksonville. The youngster and his mother left behind two siblings, including his twin sister, to undergo intensive treatment in hopes of irradiating the life-threatening tumor.
Chevan's intersecting path with the Sharks first came at the Joe-Z Bowling Tournament, a tournament presented by McDonalds with proceeds supporting the Ronald McDonald House. Chevan and his mother, as residents of the Ronald McDonald House at the time, were teamed up with Sharks defensive back LaRache Jackson. Even at three years old, Chevan out bowled the professional football player.
"I met Chevan at a function at the bowling alley," stated Jackson on his first encounter with Chevan. "He actually beat me in bowling. We had so much fun together, I just felt a special connection with the kid and just fell in love with him."
Jackson and the Sharks extended an invite to Chevan and some of his friends also receiving proton therapy treatment to attend a practice as special guests. This is where Jackson introduced Chevan to his Capozzoli and the rest of the team.
Over the following weeks, Capozzoli and Jackson paid little Chevan several visits, often times bringing fellow teammates. To Chevan, these two athletes have given him joy and encouragement as he underwent treatment. Little would he know how much influence he would bestow to the players.
"Since the first day he came [to practice] he was such a great spirit," said Capozzoli. "He reminded me of my little cousins and family back home. I've never seen a little boy who's gone through so much be so happy. I never thought I'd meet anybody that would touch my life the way he did."
Capozzoli was just one of several Sharks that attended Chevan's farewell party at Shands after his last treatment on July 6. A toddler in tears, Chevan was anything but happy after coming out of his "nap" during his treatment. The moment Capozzoli came through the doors, however, Chevan's eyes lit up as he sprang to his feet, chasing towards his friend.
"We just like to come out here as a team," added Capozzoli "and help these kids have a good time because they're going through a lot. We just want them to know that they are as much an inspiration to us as we have been to them."
Chevan would leave for England the next morning, but not before Capozzoli would decide to create Kick for Kids in his honor. For the remainder of the 2011 season - including playoffs - Capozzoli is donating $10 for every point he kicks. Each extra point will garner $10 and $30 for each field goal will be donated directly to the Ronald McDonald House. Since the inception of Kick for Kids, Capozzoli has donated 15% of his game checks.
"I play this game because I love it and have the passion for it … not for the money," stated Capozzoli. "This game and this community has been great to me and I want to show my appreciation. I want to use my time as a Shark to do something that will make a difference in children's lives."
The Jacksonville Sharks organization will match all moneys donated by Capozzoli and invite others to do the same. Capozzoli added, "Whether someone gives a dollar for every kick or just one dollar, I hope we can do some good to continue to support these people in need."
Chevan returned home to England on July 9 after finishing his treatments. A limousine arrived at the Ronald McDonald house that day, provided by the team, to escort Chevan and his mother to the airport. Also awaiting the two was Capozzoli. The two hugged and cried but refrained from saying goodbye.
The two still chat constantly through Facebook and Skype. Chevan is scheduled to return next summer after he continues to undergo treatment at home in England. He is already looking forward to his trip to Disney World and a Sharks game with his buddy Marco.
Kick for Kids is gladly accepting pledges of any kind. For information on how to donate money or time to the Ronald McDonald House, please contact Jacksonville Sharks Director of Community Relations Jen Foskey at [email protected]