News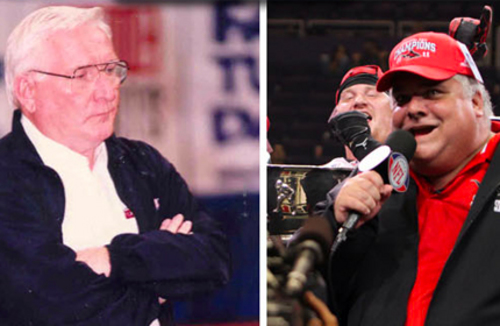 12/08/2011 11:11 AM
-
TULSA, OK – The Arena Football League today announced the 25 members serving on the League's Silver Anniversary Committee. The Committee, consisting of long-time League executives, media members, former players and Hall of Famers, will be polled on numerous Top 25 lists for the AFL's 25th Anniversary.

"The history of this League is vast. As we enter our 25th Anniversary, we aim to recognize those players, teams, games and other subjects which makes the AFL what it is today," AFL Commissioner Jerry B. Kurz said.

Included on the committee is AFL Hall of Famer Perry Moss, the father of Sharks Head Coach Les Moss. Les Moss will also serve on the committee alongside all other current AFL Head Coaches.

Per a league release:

Committee members include Editor of Pro Football Weekly HUB ARKUSH; former ESPN anchor and USA Today Sports Weekly writer HOWARD BALZER; Philadelphia Daily News writer ED BARKOWITZ; former player and current Offensive Coordinator for the Chicago Rush SHERDRICK BONNER; AFL Hall of Famer EDDIE BROWN; play-by-play voice of the Pittsburgh Power TROY CLARDY; Hall of Famer HUNKIE COOPER; former coach MIKE DAILEY; AFL founder JIM FOSTER; Hall of Famer FREDDY GAYLES; Philadelphia Soul General Manager TOM GOODHINES; former Head Coach and Hall of Famer JOHN GREGORY; play-by-play voice of the Chicago Rush LES GROBSTEIN; AFL Hall of Famer and Cincinnati Bengals Offensive Coordinator JAY GRUDEN; former player DARRYL HAMMOND; former player and coach DARRIN KENNEY; AFL Commissioner JERRY B. KURZ; former Head Coach and Hall of Famer TIM MARCUM; former AFL Head Coach and Hall of Famer PERRY MOSS; AFL founder BILL NIRO; AFL Hall of Famer and Chicago Rush President/GM GENE NUDO; Arizona Republic reporter RICHARD OBERT; former Director of Public Relations for the Orlando Predators DAN PEARSON and NFL Network commentator ARI WOLFE.

One lucky fan will have the opportunity to serve as the 25th member of the Silver Anniversary Committee. This fan will participate in all remaining Silver Anniversary events, discussions and voting. For the opportunity to serve on the Silver Anniversary Committee, fans can pass on photos and videos to
[email protected]
telling why they are the most devoted AFL fan. AFL Communications will post select photos and videos on ArenaFootball.com, Facebook and Twitter. The Arena Football League Office will select which fan serves on the committee to receive the Ultimate 25th Anniversary Experience. The contest is set to open in the coming weeks.

In addition to the Silver Anniversary Committee poll, a fan poll will also be voted upon. This Top 25 list will be released with the Silver Anniversary Committee poll. During fan voting, participants will have the opportunity to win a 25th Anniversary game ball, pre-game field passes, season tickets, single game tickets, autographed items, AFL apparel and a membership to the new AFL Field Pass, which will be launched for the 2012 season.


The Jacksonville Sharks are members of the Arena Football League (AFL). The ArenaBowl XXIV and back-to-back South Division Champions are presented by Sea Best Seafood and play all home games on Sea Best Field at the Jacksonville Veterans Memorial Arena. Season Tickets for the 2012 season are now available, two tickets as low as $135. To reserve your season tickets or for more information, please call (904) 621-0700. Follow the Sharks on facebook at facebook.com/jaxsharks and on Twitter @jaxsharks, as well as the Attack Dance Team at facebook.com/sharkattackdance.