News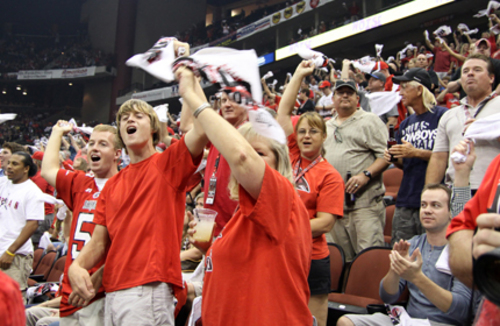 01/27/2012 3:58 PM
- JACKSONVILLE - A recent Arena Football League fan poll ranked Sea Best Field, the home of the ArenaBowl XXIV Champion Jacksonville Sharks, as the fourth-rowdiest atmosphere in the 25-year history of the league.
With the help of their home fans, the Sharks have compiled a 17-3 record on Sea Best Field over the team's first two seasons (including playoffs). In 2011, the Sharks went 8-1 at home during the regular season before winning two home playoff games en route to the team's ArenaBowl title.
From a league release:
A week following the announcement of the Silver Anniversary Committee's list of the 25 Rowdiest Atmospheres in Arena Football History, Arena Football Nation responded with nearly 400 votes in the League's ArenaFootball.com Fan Response Poll.
After the Committee's Top 25 list was posted on January 19, fans were asked to review and discuss what they believed the Committee got right – and what they got wrong – on Facebook, Twitter and the ArenaFootball.com message boards. Soon after, they began submitting their own nominations for voting in the Fan Poll.
But while the fans and Committee agreed on the top spot in the Top 25 Uniforms poll, fans selected a different number one for the League's Rowdiest Atmosphere of all-time.
"Deaf Valley" – home of the Spokane Shock, who have posted a 13-4 record at home over the last two seasons – earned the fans' choice for the Rowdiest Atmosphere in Arena Football History, narrowly beating out "The Barn" in Iowa and the Silver Anniversary Committee's top choice, "The Jungle" in Orlando. Orlando and Iowa finished second and third, respectively in the Fan Poll.
Coming in fourth in the Fan Poll was the "Shark Tank" in Jacksonville, moving up eleven spots from the Silver Anniversary Committee vote. Fans voted the "Thunderdome" era Tampa Bay Storm atmosphere number five.
Moving down one spot in the Fan Poll was the "Snake Pit" in Arizona, while the Detroit Drive moved up one to number seven and the San Jose SaberCats slid down two to eighth. The Utah Blaze, ranked 16th by the Committee, were placed at number nine and the Albany Firebirds of the mid-1990s came in tenth in the Fan Poll, after finishing fourth overall in the Committee vote.
Other notable differences in the Fan Poll included the additions of the Kansas City Command, Cleveland Gladiators and Minnesota Fighting Pike, taking the places of the Dallas Desperados, New York Dragons and Memphis Pharaohs.


Arena Football Fans' Top 25 Rowdiest Atmospheres in AFL History

1. Spokane Shock (2010-2011)
2. Orlando Predators (1998-2000)
3. Iowa Barnstormers (1995-1997)
4. Jacksonville Sharks (2010-2011)
5. Tampa Bay Storm (1991-1996)
6. Arizona Rattlers (1994-2004)
7. Detroit Drive (1988-1993)
8. San Jose SaberCats (2002-2004)
9. Utah Blaze (2011)
10. Albany Firebirds (1994-1999)
11. Chicago Rush (2006-2007)
12. Nashville Kats (1999-2001)
13. New Orleans VooDoo (2004)
14. Philadelphia Soul (2008)
15. Colorado Crush (2004-2007)
16. Kansas City Command (2011)
17. Indiana Firebirds (2001-2004)
18. Grand Rapids Rampage (2001-2003)
19. Dallas Desperados (2002-2006)
20. Los Angeles Avengers (2002-2005)
21. Cleveland Gladiators (2011)
22. Columbus Destroyers (2004-2008)
23. Pittsburgh Gladiators (1987-1990)
24. Minnesota Fighting Pike (1996)
25. Milwaukee Mustangs (1996-2000)