News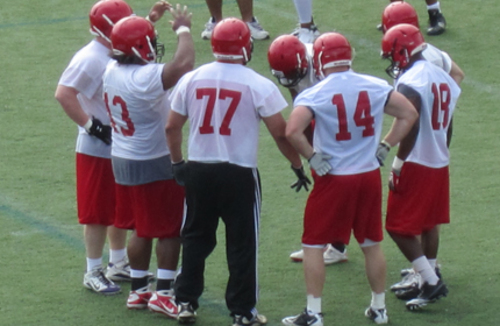 02/23/2012 5:27 PM
-
ST. JOHNS COUNTY, FL - The Arena Bowl XXIV Champion Jacksonville Sharks opened 2012 training camp Thursday, holding its first practice of the season at Plantation Park in St. Johns County. For the Sharks, this is the first step towards defending their 2011 title.

For the opening practice, players were first divided into positional groupings for individual drills. Following that, receivers matched up with defensive backs for one-on-one and three-on-three drills, while the offensive and defensive lines squared off as well. After a 15-minute "halftime" break, the team spent the final hour of practice running plays as a full squad.


Defensive Backs in Focus

One thing the Sharks will need to address during training camp is the secondary. The loss of Micheaux Robinson, and his league-leading 46 pass break ups, leaves a hole in the defensive backfield. The Sharks are looking to returning veteran LaRoche Jackson, who led the team in tackles (119) in 2011, and a mix of new players to fill the void that Robinson leaves.

"I think Coach Moss and Coach Grande and the rest of the coaches did a good job of bringing in a good group of guys," Jackson said. "It seems like everyone gets along well. No one thinks they're better then anyone. We are helping each other out on and off the field. I'm looking forward to us being even better then last year to be honest with you."

Returning to the Sharks' secondary along with Jackson is JaVonte Holmes. Holmes played in seven games for the Sharks in 2011 as a rookie, totaling 17 tackles, and one interception he returned 28 yards for a touchdown. The two veterans will lead a group of three rookies in Stoney Woodson, T.J. Wright and Daylan Walker, who will be looked at to help strengthen the secondary.

The revamped secondary seemed to bring a lot of intensity from the first whistle of practice. The new players showed flashes, breaking up a number of pass attempts from quarterbacks, Omar Jacobs and Chris Leak. The energy that the secondary brought even sparked some good-spirited trash talking between the defensive backs and wide receivers.

"That will make us better," Jackson said. "Being competitive with one another makes each other better. When it comes game time and other teams try to talk trash to you, we'll still be able to stay focused because we've been doing it to each other all year and all day long in practice. It's fun. We're going to compete and we're going to make each other better each and every day."

It became obvious after day one that Jackson has stepped into a leadership role for not only the secondary but the entire defense.

"I like that we have some veteran guys helping each other out and some young guys that are hungry to compete," Defensive Coordinator Jake Grande said. "That's all I can ask for, just for them to come out and give it their all every play, every down."

Whether it's calling out assignments during drills, or helping the younger players on the sideline, Jackson said he wants to do whatever it takes to help the defense and the new players get acclimated.

"Like I told them when we first got here, if you ain't here to win a championship, don't be here and waste our time," Jackson said. "I'm just doing what I can to help the next guy. I'm not going to try to be quiet about it just so nobody tries to take my job. I'm a team player."


Who's in at QB?

This season, much of the attention will focus on the quarterback position, as Chris Leak and Omar Jacobs vie for the starting spot vacated by the departure of Aaron Garcia. Jacobs returns to the Sharks after serving as Garcia's backup in 2011, while Leak is new to the Arena Football League.

In the early going, each quarterback will work in with different receivers and get close to equal number of snaps. Jacobs believes that the competition will make both players better.

"It's a great competition – two guys going in and battling," Jacobs said. "I think, us two, learning off each other and figuring out things, trying to make this team the best as possible."

Leak agreed with that sentiment, saying that he is focused on how both he and Jacobs can improve the team as the season approaches.

"My competition is not between guys on this team," Leak said. "Our job as quarterbacks is to lead the team to a championship. Our competition is against the 18 games we've got to play this season, so that's what we're concentrating on."


Coach Crafts' Take

As is the case in the secondary and at receiver, the Sharks enter 2012 with plenty of new faces along the offensive line and in the backfield. For instance, Rustin Phillips and Rendrick Taylor are competing for the fullback job formerly held by Kirby Griffin. After practice, Assistant Coach Jerry Crafts spoke about where this unit stands as camp opens.

"It feels good, we had a good break and now we're back to football," Crafts said. We have a lot of new guys out here so we have a lot of work to do. We were fortunate last year to have a few veterans who knew what to expect, so we'll need to gauge a little bit and see what we can get out of these guys."

Crafts added that one key to success for any offensive line is repetition as a group.

"The more reps they can get together as a group the more they can jell together and be more of a unit," he said. "That's what we're trying to find out – where people fit into our system – and we'll go from there."


Minor Transaction

The Sharks made one transaction Thursday afternoon, as offensive lineman Vladimir Richard was placed on the physically unable to perform list. Richard was assigned to the Sharks' 2012 roster on Wednesday.


Up Next

The Sharks will get back to work on Friday morning, with another practice from 8:30 a.m. – noon at Plantation Park. Friday's practice will also be open to the public.



The Jacksonville Sharks are members of the Arena Football League (AFL). The ArenaBowl XXIV and back-to-back South Division Champions are presented by Sea Best Seafood and play all home games on Sea Best Field at the Jacksonville Veterans Memorial Arena. Season Tickets for the 2012 season are now available, two tickets as low as $135. To reserve your season tickets or for more information, please call (904) 621-0700. Follow the Sharks on facebook at facebook.com/jaxsharks and on Twitter @jaxsharks, as well as the Attack Dance Team at facebook.com/sharkattackdance.